Kevin Magnussen just signed a contract with Formula 1 team McLaren and is set to make his Formula 1 debut in 2014. Formula 1 is the pinnacle of motor sports and from a Danish perspective it is MASSIVE to have another Dane included in this prestigious sport, especially with Kevin's potential in mind.
It is a zenith moment for Danish motor sports to see Kevin Magnussen follow in the footsteps of his father Jan Magnussen, who had his debut in Formula 1 in the 1990's. His father's experiences and wisdom about the sport provide a fine foundation for Kevin to lean on and given Kevin's determination and talent, there is fine potential that we may soon see a Danish sports brand breaking the barriers in terms of revenues for Danish athletes. There is much symbolic meaning in the fact that a team like Mclaren with its proud traditions and legacy in the sport signs a novice driver such as Kevin. Mclaren's mentality reveals a strong willingness to go for what it takes to become world champions so the signing of Kevin may be a sign that we may see a future Danish Formula 1 World Champion.
Kevin Magnussen will replace Sergio Perez from Mexico, who lasted no more than a season. That sends a message about the pressure, which Magnussen must cope with but it seems like he is well aware of that. Add to that that he has been VERY FAST and shown fine technical abilities in the previous testing period. More importantly, Kevin Magnussen appears to be 'down-to-earth' while being confident at the same time – a mix that is sound to have when engaging in such a competitive and money-driven sport where confidence to go for the title and humility to learn as a young driver must go hand-in-hand.  That is a respectable basis for success and Magnussen seems to be a good cocktail with a taste of triumph at the Formula 1 stage.
For Danish sport and for Kevin Magnussen, this is excellent news. If Kevin accelerates and succeeds in climbing the steep learning curve of the Formula 1 circuit, there is no doubt that he may be the strongest Danish sports brand in a few years from now (measured on revenues). We have all seen what Caroline Wozniacki accomplished commercially in relation to her climb to the no. 1 position in women's tennis a few years ago. Moreover, Caroline came to a position as no. 1 measured on 'Danes with the most exposure across international media'. That process sparked Wozniacki's earning potential and made her a hunted object among large corporate sponsors. What Wozniacki has done for Danish sport is remarkable but with all due respect; Formula 1 is bigger than women's tennis from an economic standpoint.
Since the 1990's, Forbes has ranked the highest-paid athletes worldwide. According to the 2013 edition of the ranking, female tennis player Maria Sharapova is placed as no. 22 with annual earnings of $29 mio. – that is well above other female tennis players (including Caroline Wozniacki). Formula 1 driver Fernando Alonso ranks as no. 19 with annual earnings of $30 mio. while Lewis Hamilton is positioned as no. 26 with annual revenues of $27.5 mio. Sebastian Vettel may soon be up there or even surpass Alonso and Hamilton when he renews his contract. Lewis Hamilton had a contract with McLaren and won the World Championship with McLaren in 2008 but decided to sign with Mercedes. Switching to Mercedes was thought to intensify Hamilton's marketability due to the fact that McLaren are known to apply harder regulations concerning the endorsement deals of its drivers so we will see how that will affect Magnussen? Though, first Magnussen will have to prove himself on the circuit.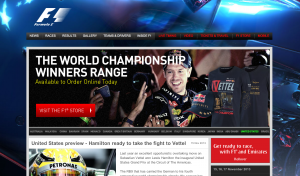 Photo: F1's official web site.
In highly commercialized sports, athletes have become richer and richer due to exploding television income. Formula 1 has experienced a revenue-based growth spiral over the years even though there has been a global financial crisis. Revenues accounted for approximately $1.6 billion last year against approximately $1.5 billion in 2011. Promoters pay fees to host races and that accounts for about 1/3 of revenues while television revenues account for roughly another 1/3 of revenues. The hosting fees come from contracts, which include clauses that enhance the rate by up to 10 % on an annual basis. The global expansion of Formula 1 has influenced the growth spiral positively, particularly when it comes to growth in emergent markets in Asia. Singapore, China, South Korea, India and Malaysia thought it was a good strategy to invest in Formula 1 to help position the countries on the map via a global sports product and being exposed to generally 500 eyeballs is worth something. There is definitely a branding and tourism impact to gain and some credibility to achieve in competition with other sporting countries. Then, there are also sponsorship generated revenues and corporate hospitality.
Well-known corporate brands like Emirates and Rolex have signed huge Formula 1 deals lately. Sponsorship deals may include promotion surrounding the circuit. Exposure is great and with new countries showing interest to host races, there are also fine opportunities to activate a sponsorship deal on a broad scale. In 2014, the Sochi Olympic Park Circuit, which is funded by the Russian government, will help to put added spotlight on Russia and Sochi.
Sources: