While everybody is commenting and elaborating on the new £5.136 billion television rights deal of the Premier League in England, there is a new trend in the sports market, which has the potential to change the ways in which we experience and consume sports. Newzoo conducted the Global Esports Report, which strives to illustrate a holistic perspective on the growing business of e-sports.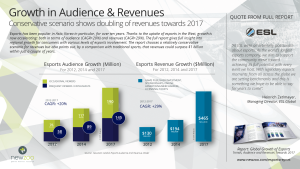 Infographic: Growth in e-sports audiences and revenues (source: newzoo).
According to the report, there are reportedly 2.2 billion people globally that show interest or a lot of  interest in sports. 1.6 billion of these are active participants in minimum one sport. Compare this to the 1.7 billion gamers as of 2014. In 2017, the global number of e-sports fans is expected to become close to that of American football so there is lot of potential.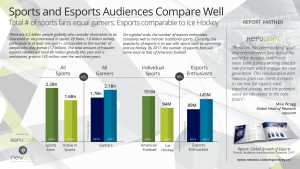 Infographic: comparison between sports and e-sports (source: newzoo).
The infographic below shows the promising numbers linked to the economic growth potential of e-sports. The pace of the growth is expected to escalate in the years to come.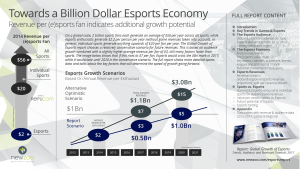 Infographic: the billion dollar e-sports economy (source: newzoo).
While everybody is commenting and elaborating on the new £5.136 billion television rights deal of the Premier League in England, there is a new trend in the sports market, which has the potential to change the ways in which we experience and consume sports. As of January 2016, ESPN will reportedly broadcast a variety of massive online multiplayer games like Hearthstone and DOTA 2 (Osmani, 2016) With a strong foothold in Asia, e-sports has developed and is now a global phenomenon. It acts as a new branch in the business of sports, which is growing in popularity and in terms of commercialization as the level of prize money gained from tournaments increases. It has been reported that in 2015, the amount of people watching e-sports competitions has exceeded the amount watching CNN (Riddel, 2016). Consequently, this relatively new phenomenon has been assigned with another potent growth factor since two of the major gaming companies Activision and Blizzard acquired Major League Gaming for approximately $45 million dollars while giving the promise to make it the 'ESPN' of professional gaming.
However, not every game can be classified as competitive. In that regard, we are talking about the massive online multiplayer games, e.g. League of Legends, Hearthstone, Heroes of The Storm, and Call of Duty. Such games have the ability to gather players worldwide and thus to create massive online gaming experiences, which with the help of PR stunts, advertising and upcoming computer- and technology-savvy generations have the prospective to set the stage for an emerging sport that one day may succeed in contending the likes of the NFL, NBA, MLB, NHL or even the popularity of football and leagues like the Premier League and the UEFA Champions League.
However, in order to understand where this trend comes from, please take a look at the infographic below to consider the key aspects of the sport and its economic aspects.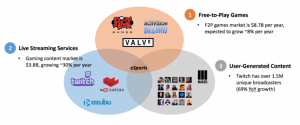 Source: Madrona Venture Group.
Free online streaming platforms like Twitch enable the broadcasting of live online gaming experience to viewers, where a simple GoPro camera or a shared screen is enough in order to be able to live-stream online gaming sessions to people and to start capitalizing on the skills shown in front of the screen and the popularity of this trend.
In addition to tournament prize money, the business model of online gaming is characterized by financing from a variety of donations, streaming subscriptions and crowdfunding platforms, which provide the e-sports elite with resources to assist them in concentrating on improving their skills. The latter is a scenario that is similar with the focus of athletes and thus the professionalization efforts in more established sports.
Therefore, the e-sports industry strives to obtain the commercialization seen in other areas of professional sport and is currently on the right track. So, there should be a synergy between the interests of central actors like professional players (online gamers), sponsors and rights owners. Companies like Riot Games have done well by selling in-game League of Legends merchandise in order to gain prize money for an online tournament. Moreover, Activision and Blizzard are allocating extra efforts to keep players interested in their flagship games like Call of Duty and World of Warcraft, which already have succeeded in capturing solid market share that are being (and still have unexploited potential) turned into huge revenue streams for both companies.
The digital era has enabled the ease of access to e-sports with relatively small investments.The influence of e-sports in Asian markets such as China and the cradle of the sport South Korea adds to this.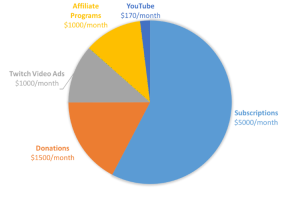 Source: The Daily Dot, Destiny
As the infographic illustrates, the majority of funding refers to donations and subscription. As seen, the economic development gives the sport the freedom to enhance its development without the traditional mass media platforms and the corporate influence of corporate sponsors that currently characterize other and more grounded sports platforms. Thereby, there is a new agenda and new source of power in the world of sports, which will challenge existing business models. However, e-sports still represents a perfect commercial niche that has not yet been fully exploited by the variety of corporate sponsors, which operate in the market for sport and entertainment. With that in mind, there is solid basis for stating that e-sports will continue to grow not only in terms of active fans but also commercially.
Communication with the online players and with online gaming fans has never been easier due to the instant communication channels linked to online streaming and that gives e-sports a competitive edge over other emerging sports. Moreover, the traditional mass media outlets have not yet influenced e-sports intensively. The communication process holds the element of 'being genuine' given that both players and coaches are free to express their opinion freely.
With new information coming in the news literally every day, there is presently no roof for how e-sports can be commercially boosted. It is certainly not a one-day wonder so it will be interesting to monitor and elaborate on how this newfound phenomenon will develop in Denmark and around the World?
References:
Darren Heitner (2016) From Near Bankruptcy To Making Millions In eSports, Available at: http://www.forbes.com/sites/darrenheitner/2015/09/30/from-near-bankruptcy-to-making-millions-in-esports/#4c6fa2633e2d (Accessed: 01.02.2016).
Daniel Li (2016) The Less Sporty Side Of E-Sports, Available at:http://techcrunch.com/2016/01/10/the-less-sporty-side-of-e-sports/ (Accessed: 25.02.2016).
Basim Usmani (2016) Can Activision Blizzard create the ESPN of eSports? Gamers are skeptical, Available at: 02.2016 (Accessed: http://www.theguardian.com/sport/2016/jan/07/can-activision-blizzard-create-the-espn-of-esports-gamers-are-skeptical).
Max Laughton (2016) How an esports tournament is built, Smite World Championship recap, behind the scenes of esports, Available at:http://www.heraldsun.com.au/sport/more-sports/how-an-esports-tournament-is-built-smite-world-championship-recap-behind-the-scenes-of-esports/news-story/ec71483ab7eecdada4f94506bc0d41ba (Accessed: 03.02.2016).
(2016) The more you know: Activision Blizzard and eSports, Available at:http://www.lazygamer.net/esports/know-activision-blizzard-esports/ (Accessed: 03.02.2016).
Don Riddell (2016) Virtual reality, 'e-sports' trending at Consumer Electronics Show,Available at: http://khon2.com/2016/01/10/virtual-reality-e-sports-trending-at-consumer-electronics-show/ (Accessed: 05.02.2016).
Earl Carlo (2016) Esports is Now a Major Subject in Norway, Available at:http://esports.inquirer.net/13226/esports-accepted-as-a-major-subject-in-norwegian-high-school (Accessed: 02.02.2016).
This article is written by Ivan Nalbantov with Kenneth Cortsen as co-author.
Ivan Nalbantov is an ambitious young sports business professional who studies sport management at University College of Northern Denmark while working within the areas on sponsorship, digital strategies and content production and how that relates to sports business and corporations using sports as a marketing vehicle. Ivan strives to gain a better understanding of the connection between sport institutions and their intermediaries and how they work together. For Ivan, the business of sports is more than just a career path. He believes that it will dictate his life and legacy for years to come.