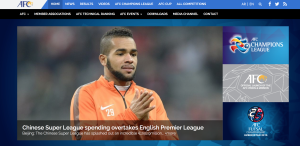 Foto: Investeringslysten er stor i kinesisk fodbold (kilde: Asian Football Confederation).
Med en placering på FIFA's verdensrangliste som nummer 93 bag nationer som Botswana og Uzbekistan, er Kina en miniput i fodboldens verden. Den nuværende udvikling i landet indikerer dog, at dette er på vej til at ændres. Senest smadrede Jiangsu Suning transferrekorden ved at hente Alex Teixeira for 373 mio. kr. i Shakhtar Donetsk.
Rødderne bag denne udvikling skal bl.a. findes tilbage i 2010. Her blev Guangzhou Evergrande opkøbt af ejendomsselskabet Evergrande Real Estate Group i kølvandet på en korruptionsskandale, hvor holdet i 2009 blev tvangsnedrykket til den næstbedste række. Den følgende sæson rykkede klubben dog op og vandt året efter deres første titel i 2011. Siden da har klubben vundet den Kinesiske liga fire år i træk, ligesom den to gange har vundet AFC Champions League, den asiatiske pendant til UEFA Champions League. Flere af disse titler blev vundet under Italiens tidligere landstræner Marcello Lippis ledelse.
Klubben er blevet et nationalsymbol på fodboldens udvikling i Kina, og da præsident Xi Jinping i februar 2015 bebudede, at fodbold skulle være den største sport i Kina, tog udviklingen for alvor fart. Med 20.000 nye fodboldbaner og planer om at åbne 20.000 nye fodboldskoler i 2017, er udviklingen for alvor i vækst. Store virksomheder investerer nu i klubberne, hvilket bl.a. ses i Guangzhou Evergrande, hvor 40% af klubben er ejet af e-handelsvirksomheden Alibaba Group, som i 2015 havde en omsætning på 76 mia. kr. ($12,3 mia.).
I januars transfervindue stod den kinesiske liga da også for de største transfers. Hvor man normalt ser den engelske Premier League være førende, blev de største summer dog udbetalt fra Kina. Jackson Martinez, Ramires, Gervinho og Alex Teixeira er hentet til ligaen for mere end én milliard danske kroner.
Med disse spillere har Kina for alvor sat sig på fodboldens verdenskort, hvor de Europæiske klubber i de kommende år skal forvente større konkurrence, når det kommer til at hente spillere fra øverste hylde,
En lignende udvikling ses også i den amerikanske MLS, der de seneste år har lokket profiler som Andrea Pirlo, Steven Gerrard og Frank Lampard til ligaen. Disse er dog spillere i deres karrieres efterår, hvilket ikke kan siges om førnævnte Martinez, Ramires, Gervinho og Alex Teixeira. Ganske vist er det spillere, som ikke som kan forventes at spille i de absolut største topklubber, men alligevel er det spillere i deres bedste fodboldalder.
Udviklingen i Kina har været et par år undervejs. Fra omkring 2010 blev flere brasilianske talenter hentet til ligaen, og siden fulgte profiler fra de europæiske ligaer trop, heriblandt Didier Drogba, Nicolas Anelka, Tim Cahill, Robinho, Paulinho, Demba Ba og Eidur Gudjohnson. Derudover findes trænere som den tidligere engelske landstræner Sven-Göran Eriksson og Luiz Felipe Scolari, som vandt VM med Brasilien i 2002 og førte dem til semifinalen i 2014. Desuden blev David Beckham udnævnt til ambassadør for ligaen i 2013, hvilket også har medvirket til det styrkede fokus.
Med de profilerede spillere og træneres indtog er ligaen blevet mere interessant for fans, tilskuere, sponsorer og tv-selskaber, hvilket har medført større indtægtsstrømme for klubberne, som igen kan investeres i bedre spillere. Især det økonomiske aspekt er en afgørende faktor, når en relativ lille fodboldnation pludselig kan hente spillere fra Premier League og andre europæiske topligaer. Udfordringen for de kinesiske klubber er at begynde at bruge pengene fornuftigt og skabe rammerne for talentudvikling med det formål at øge niveauet i ligaen.
Det bliver også interessant at følge udviklingen omkring, hvilke profiler ligaen kan hente i fremtiden. Om udviklingen skal ses som en respons på MLS's oprustning over de seneste år eller blot Xi Jinpings erklærede mål om, at Kina skal vinde VM skal være uvist, men det er en interessant tanke, at de to politiske stormagter, USA og Kina nu begynder at konkurrere i verdens mest populære sport. Om Kina forsætter deres oprustning skal være uvist, men så længe Xi Jinping er ved magten, vil vi se flere og flere profiler drage mod det fjerne Østen.
Gæsteblog skrevet af Glenn Risum, bachelor i sportsmanagement fra UCN og tidligere konsulent i det digitale bureau WePlay i London, som er specialiseret i sport og sociale medier. Glenns fokusområde er krydsfeltet mellem sport, teknologi og business.