The global appeal of the NBA has had a positive impact on the league's commercialization. This development mirrors a league that has understood to monetize on rivalries, superstars, technology, globalization and business strategies in an era where fans, sponsors, media stakeholders have found mutual relevance in basketball in different market places.
The NBA is a sports product in high demand
As listed in table 1 and 2, see below, the NBA has really seen significant growth in relation to franchise value and revenue generation since 2001.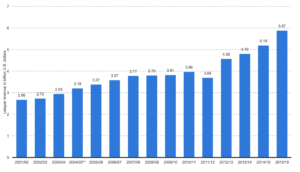 Table 1: Average franchise value of NBA teams from 2001 to 2017 (in mio. $) – source: Statista, 2018.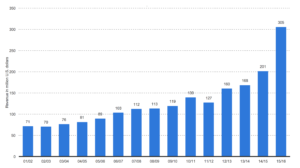 Table 2: Total league revenue in the NBA from 2001/2002 to 2015/2016 season (in billion $) – source: Statista, 2018.
I had the chance to witness the Golden State Warriors face the Boston Celtics at home in the Oracle Arena the other day and the team's performance against the top ranked team from the Eastern Conference is a good indicator that the Bay Area basketball franchise holds magnitude.
#StephenCurry leading #GoldenStateWarriors to win against #BostonCeltics by scoring 49 points #SuperStar #SportsBranding #NBA #QuickReleaseAndFindingSpaceToShoot #Precision 🏀🏀🏀giving #SportsBiz to @NBA 🏀🏀🏀 https://t.co/2sHdhfhHb2

— Kenneth Cortsen (@kennethcortsen) January 28, 2018
My impression of the Warriors performance (and its performances over the past years) led by superstar Stephen Curry's amazing 49 points against Boston makes me state that the Golden State Warriors deserves being benchmarked against the best teams in the legacy of the NBA. Whether the Golden State Warriors is the best team of all-time is irrelevant to discuss from my scientific perspective of sports economics in which sports brands are reflections of the ongoing production of meaning that emphasizes that sports brands cannot be isolated from time and context. With this in mind, some fans may rank the Los Angeles Lakers, the Boston Celtics, the Chicago Bulls or even recent teams of the San Antonio Spurs, the Miami Heat or the Cleveland Cavaliers (the latter is especially due to the enormous brand transfer from LeBron James' presence in Cleveland) over the Warriors in the irrational process of what I consider to be the social drama of constant discussion of brand status. However, what matters to me is that the Warriors is hot at the moment! Stephen Curry's shooting precision combined with his ability to find space and enhanced by his quick release is second to none and this is supplemented by Kevin Durant and Klay Thompson that give the Warriors additional shooting and performance success.
Really got to say that @StephenCurry30 understands the concept of time and space in #Basketball 🏀🏀🏀👍 #QuickRelease #FindSpaceToShoot #Precision #Magic #SuperStar #SportsBiz

— Kenneth Cortsen (@kennethcortsen) January 28, 2018
As seen in table 3, see below, the Golden State Warriors has (just like the NBA) realized a strong development regarding its revenue generation, which placed the Warriors right behind big market teams like New York Knicks and Los Angeles Lakers in the 2015/2016 season.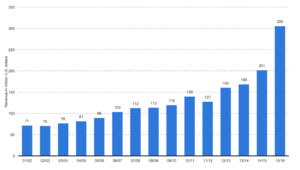 Table 3: Revenue of the Golden State Warriors from 2001/02 to 2015/16 (in mio. $) – source: Statista, 2018.
Stephen Curry is a positively differentiated athlete brand
A professional sports league is synonymous with its athletes. However, there are different scales for superstars and Stephen Curry stands out. He is an emphatic and intelligent player who has gone beyond local, regional and national status and become a face of the league and a proud athletic icon of not only the Bay Area but the entire game of modern basketball. Sports leagues and teams need players that can elevate their brand equity level and turn more potential customers into fans with manifested brand preferences. It seems like Curry really cares about his commercial partnerships in a sense in which he represents his partnership portfolio in an authentic and positive way that symbolizes a strong brand transfer. There are many examples in sports where commercial choices are not well-considered concerning the image of the athlete or the organization and where the contract amount has a higher weight for the athlete than the authenticity aspect. The passionate appeal of professional sports put athletes in a position where they are a 'pull factor' for sports fans that to a higher extent have become prosumers conscious about the importance of good and authentic brand associations. This means that athletes should meet the expected role of being strong role models with personal sports brands that invest in social responsible brand interactions, which means that they must act as brands that speak the truth of their actions.
Stephen Curry's endorsement deal with water filtration brand Brita marks a positive and authentic sponsorship engagement. We actually discussed this example as part of one of the lectures at the Sport Management Master's Program at the University of San Francisco at which I am currently a Visiting Professor and the students of whom some are working for the Warriors emphasized that it matters to them that Stephen Curry follows his heart and head instead of the money in this commercial partnership. My point is that Curry decided to go with Brita because he believes in its product rather than representing a bigger sponsor that offers more money. When breaking the news of the endorsement deal, Ed Huber, General Manager of the Brita brand said that 
"This is an important day for Brita, but also for everyone who has worked so hard to get more Americans to pick water […] Stephen Curry is a role model to millions of children and adults around the world. By deciding to work with Brita – and make no mistake, Stephen Curry could endorse any beverage he wants –he's sending a powerful message that clean, clear water is the right choice for everyone in America."
 The impact of superstars in terms of being able to move customers and market shares is massive and Curry simply has a desire to assist in increasing the sales of water over unhealthy sugar drinks and the significance of promoting something healthy is in general perceived to be more authentic in relation to athletes than something unhealthy. This is highlighted even more now that our society is filled with debates of obesity and health concerns. The sports world and societies were different 30 years ago. So, Curry's choice of Brita not only represents CSR but also illustrates and strong degree of personal social responsibility in giving voice to an important cause. As we discussed in class, this may lead to a future commercial trend that could disrupt the big brands from having a monopoly in setting the agenda in sports sponsorships and sports branding; more athletes may choose the social route over the contract with the big chunk of money. Hopefully, Stephen Curry and other top sports stars may influence the younger generations to select Brita over unhealthy drinks filled with sugar, e.g. Gatorade. My prediction is that sports sponsorship and sports branding will portray more athletes that benefit from being connected with good causes and thus will benefit from the attention generated by the positive articulation of authenticity. 
Warriors on the global stage
Warriors climb to greatness spills over on the commercial opportunities of the team. I wrote on Twitter that my visit at the Oracle Arena gave me the opportunity to check out one of the hottest brands in US sports at the moment, see Tweet below. 
Checking out the hottest brand in US sports at the moment 🏀🏀👏 #GoldenStateWarriors #NBA #BasketballBusiness #SportsBiz #GoodTimes @warriors pic.twitter.com/sGM4dP1fjJ

— Kenneth Cortsen (@kennethcortsen) January 28, 2018
The Warriors is certainly at the center of attention when it comes to commercial interactions with professional sports teams. Sports consumption in Asia depicts demand for the Warriors and that is a fantastic stage for the team to build a loyal base of future fans. The Japanese online market place Rakuten  is also the shirt sponsor of Spanish football giant FC Barcelona, which opens for opportunistic co-branding and co-creation between the two sports enterprises and their commercial assets, e.g. playing superstars. Winning certainly matters in professional sports and winning equals athletes rising to higher status and thus more potential as living billboards.
The likes of Curry, Durant and Thompson can realize the team's global business aspirations. Warriors has also invested in esports and the team's current and improving positioning in Asia is very interesting when boosting the ROI, ROE and ROO linked to the synergy of the postmodern junction between business, sports, and entertainment worldwide. FC Barcelona and other global sports brands have already moved in that direction with various sports offerings, e.g. football/soccer, basketball and handball. Golden State Warriors may find similar benefits in esports opportunities in Europe and will certainly experience a commercial boost from the implementation of a new arena assisting in enhancing capitalization efforts. The economics of sports have become more complex because of digitization. However, digital brand interactions provide further avenues for revenue generation and the synergy to be found between the realization of digital strategies and investments in esports is vital when succeeding in your capitalization efforts in the interconnected world of global professional sports.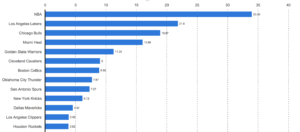 Table 4: Facebook fans of National Basketball Association teams in September 2017 (in millions) – source: Statista, 2018.
Media fragmentation in the business of sports is higher than ever and digital touch points and knowledge are crucial mechanisms in reaching the future generations of sports fans that are so essential for any professional sports team's business model. This is due to the fact that these fans are more mobile when it comes to being willing to seek new brand choices (their brand preferences are not that manifested compared to older target groups). At the same time, the co-branding and co-creation to be found in engaging with companies competent in dealing with e-commerce and digitization like Rakuten may offer an additional monetization bridge between team, sponsor(s) and fans. Warriors has done well in terms of coming to a stage of business development where the team faces an increasing number of international brands targeting commercial engagement options, e.g. exposure and activation opportunities that optimizes the team's opportunities to broaden its commercial scale of sponsorship and branding operations. However, there is still room to grow the Warriors brand in Europe, Asia and elsewhere but the team has put itself in what seems to close to pole position.