Nike's famous slogan has worked well and has become even more noticeable over the years as a result of the enhanced meaning of and the penetrating ability of sports branding and its role in our contemporary consumer society. The company's slogan has been at the heart of many iconic commercials and ads and its role has not slowed down due to the snowballing effect of experiential marketing's popularity.
In his book Just Do It: The Nike Spirit in the Corporate World, Donald Katz comments on Nike's iconic brand status by stating that "after many months of observation and travel, I came to see that Nike is at once a state of mind and an intricate network connecting far-flung economic nodes. The company courses along some revved-up latter-day descendant of the subdivided labor and economic activity described in Adam Smith's 'The Wealth of Nations'. Once you have become Nike-minded, the company's influence becomes perceptible in every vista" (Katz, 1994, pg. x-xi). Nike supports this notion and seems to do whatever it takes to inculcate its slogan and the 'Nike brand experiences' through the application of various means of communication. Nike acts as a colossal marketing vehicle and the company has understood to break through the clutter and to conquer important market shares in several markets worldwide. On the company's You Tube profile, Nike states the following:
"Just Do It.
Use Sports. To Get what you want. Use them to fit in. To stand out. Use them to have fun, and to feel alive. Use them to get revenge or give back. Even when they say you can't. Use sports to redeem. Because Sports, will never judge you.
Use Sports. To kill boredom and make friends. To travel the world. To meet your idols. To become legendary. Use sports regardless. Because sports will never questions your intentions.
Use Sports. To change yourself. To change everything. You can. It doesn't matter where you come from or who you are.
To fail. To fail. To fail.
 To win.
 Because sports will never say you can't."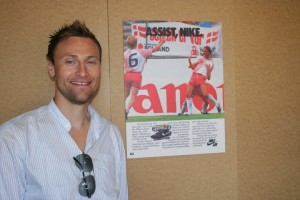 Photo: A funny (Danish footballer Preben Elkjæer & Nike) picture on the wall, which I found when visiting Nike's HQ in Oregon in 2010.
Over the years, Nike has found different ways to change or influence society. Whether or not the company has been associated with negative (e.g. the sweatshops in Asia) or positive stories (e.g. how the company utilized the negative turmoil regarding the sweatshops to become an industry leader within the use of CSR), reality shows that Nike is still going strong. I evoke how I was exposed to a Nike story from Businessweek when I was a business school student in the US; I remember how one Nike client said that "It's the only company that has successfully managed to sell a way of life with its products" (Businessweek, 1996). That statement perfectly displays what Nike is all about; it is a company, which entails much more than a specific product, i.e. it is a company that follows a path of branding characterized by being influenced more by the corporation itself than by a given product.
This corresponds well with the notions of Goldman and Papson (1998), who have investigated Nike from the perspective of the company's role as the most iconic brand in the cultural economy. In this investigation, the company's slogan was questioned in terms of why it resonates with som many people? The answer was that "it speaks to the restraint and inhibition in everyday life that keep people from the experience of transcendence. Nike provides a language of self-empowerment – no matter who you are, no matter what your physical, economic or social limitations. Transcendence is not just possible, it is waiting to be called forth." (Goldman & Papson, 1998, p. 19). From my angle, Nike has been very good in terms of associating itself with a source of escapism, which provides consumers with a road map for 'how to set themselves free' and to 'break with what is ordinary' (in relation to people's everyday lives). 
Additionally, Nike is interesting in the sense that it has succeeded in promoting itself in 'edgy', 'contemporary', and 'newsworthy' ways. For instance, Nike has always been associated with 'edgy' athletes – John McEnroe and Tiger Woods to mention a few. In alignment with Nike's celebration of the 25th anniversary of the  Just Do It slogan, MarketingWeek has picked out five of the most iconic ads of the last 25 years.
Additional sources and inspirational reading: 
USA Today on whether or not Nike's Tiger ad was too 'edgy'?
Goldman, R., & Papson, S. (1998). Nike culture: the sign of the swoosh. Sage.
Katz, D. R. (1994). Just do it: The Nike spirit in the corporate world. New York: Random house.