As part of the professionalization process of the football economy over the past decades, clubs have enhanced their focus on nursing fan relations. Fulltime fan coordinators have been a natural step in this development. This is a way to build a bridge towards meeting the recognition that competition in the football economy is about managing the balance between sporting and commercial considerations. Therefore, the management and control of fan relations go beyond a football club's traditional product and service offerings and touch the important experiential side of the football economy. So, a fan coordinator becomes an essential operational tool in the optimisation of fan relations, which is a vital revenue source in the football economy's intersection between sporting and business performances.
Fan relationship management is vital on the strategic agenda
The inspiring learning outcome should be that it is a smart investment to prioritise fan relations for what reason fan relationship management has started to take an even higher position on the strategic agendas of many football clubs. The clubs have become more conscious about the fact that they 'can win' by creating a better understanding of the needs, which relate to specific fan segments. Among other things, the meaningful aspect in this case stems from the cultural and emotional ties of sports and football clubs, which distance these sports brands positively from the majority of brands outside the business of sports and football measured on loyalty and idolisation. Football (and sport in general) is a passion-oriented business. The passionate approach that characterizes how football fans consume the sport of football is a huge advantage for football clubs but from an economic angle it creates a level of brand equity in a complex context. This context requires envisioned and well-considered strategies and concrete answers in relation to meeting fan expectations.
Economic benefits from bonding with passionate fans – cases of Real Madrid and FC Barcelona
Fans act as the powerful engine that provides the basis for sporting and business progress in professional sports. At the same time, the football economy is permeated by intensive rivalry concerning the formation of good levels of fandom because without fans the foundation for future success is minimized. This is reflected in the emphasis that the biggest football clubs in the world place on the amount of global fans (and the competition to recruit and retain these fans). This is a result of the fact that fan relations from quantitative and qualitative stances account for a fundamental part of a football club's economic business model. Keep in mind that these fan relations do not arise out of the blue! FC Barcelona and Real Madrid have more than 80 mio. followers on Facebook and FC Barcelona has exploited the opportunity to articulate the club's leading position. So, this underlines the importance of and the competition for favourable fan relations. The influence of fan relations on the business model is also visualised in the fact that a high fan identification level provides a football club with better options for taking advantage of elements like stadium capacity, attracting new sponsorship revenues, producing content for the attractive broadcasting deals and selling merchandise.
Photos: Real Madrid's and FC Barcelona's official Facebook accounts.
The vitality of 'living' football brands
Fan loyalty levels and fan relations in football clubs are also visualised when parts of a football club's brand identity are turned into a living brand and thus 'physical evidence'. This happens when fans in carefully chosen football shirts wear the club's logo and colours on the streets. This is a perfect way for clubs and fans to engage in faithful interactions. However, clubs have become more cognitive that fan loyalty is influenced by multiple parameters, which range from the entertainment of watching the local football team play on a Saturday afternoon, to following a specific player because of the player's unique abilities on the pitch (e.g. Lionel Messi or Christiano Ronaldo) or to witnessing a specific team's development (e.g. the fairy tales of AFC Bournemouth's escalation to the English Premier League or Hobro IK's promotion to and survival in the Danish Super League despite a sporting and commercial framework distanced from what is expected at this level). The latter re-shapes ordinary fandom models in the sense that the two club's fairy tales establish a footing for new articulation and storytelling with solid roots in the power of a good story.
Geographic and social affiliations – football brands must strive to go beyond these borders
Quite often, fan following links with geographic and social affiliations, which is seen when looking at how Everton FC and Liverpool FC, Manchester City and Manchester United, Arsenal FC and Tottenham Hotspur, and Sunderland FC and Newcastle United divide football fans in specific cities or regions. The same can be said when focusing on the derbies between AC Milan and Inter Milan in Italy or between Atletico Madrid and Real Madrid in Spain or when looking at the clear geographic distinctions related to teams in the Danish Super League. In Denmark, FC Copenhagen aims to be 'the team of the city', Aalborg BK (AaB) strives to be 'the team of Northern Jutland, Odense BK (OB) positions itself as 'the island's team (Odense is the largest city on the island of Funen) or the fact that FC Midtjylland's name contains a whole region (cf. the region of central Jutland). To really boost the business model and to optimize revenue streams from fan relations, football clubs must make sure that fan relations do not only link to geographic affiliation but must be translated into 'added value' financially in the way of higher ticket, concession, merchandise and sponsor sales, which go beyond geographic borders. In England, Manchester United has been very successful in obtaining this success. The same can be said about FC Bayern Munich in Germany, Real Madrid in Spain, AC Milan in Italy or in a smaller scale FC Porto in Portugal or in an even smaller scale in Denmark where Brondby IF via the club's successful development in the 1980's with popular icons like Laudrup and Schmeichel directed a bigger national following than other Danish clubs.
Balancing the needs of fans
The economic value from fan relations is especially found at the heart of the fan segments that shape their lifestyles in association with the club's brand identity and are passionate season ticket holders. The optimisation of these long-term fan relations is essential as this fan following is guided by social ties whether these ties are family ties or other social relations. The difficulties for clubs are derived from navigating through a context in which fans often have an interest in cheaper tickets and a successful and winning team. The understanding of the mechanisms in the football economy is not always present among all fans concerning this demand. Nevertheless, clubs depend on generating revenues and profits to be able to invest in players and other performance conditions that constitute a better platform for good sporting and hence a reinforcing circle that leads to better business performance as well.
Clubs must succeed in creating positive relations to fans at all times, also during periods of sporting crisis
Recognition is the first step towards a better reality so focus on fan relations in football is a good thing. However, strategy is about positive differentiation and producing competitive advantages. Value creation targeted the respective fan segments must be realised through the controllable parameters outside the pitch. In alignment with the football economy's professionalization in which player wages have gone rapidly up over the span of the past couple of decades, the CRM-approach and the data driven sports marketing and fan management trend is a good match in terms of spreading administrative investments and thus focusing on maximizing revenues. Football and sports economy is more sustainable when a club succeeds in retaining its fans during periods of sporting crisis; this mirrors why investments in 'the game outside the pitch' is vital. Clubs must create a sense of urgency regarding the origination of competitive advantages, which highlights the importance of identifying and staging parameters that are differentiated from those of competitors' CRM- initiatives and that add value to the various fan segments.
Examples of relevant CRM-parameters:
Some clubs have introduced fan panels that function as a form of 'advisory boards' that offer the club a relevant and intimate dialogue with the fan segments. In that way, it is easier to tailor CRM-activities to the different fan segments and to adapt to the dynamics of the football economy.
A club's web site can be developed in dialogue with or in consideration of the fan segments. In doing so, it is significant that the club has gone through a systematic market research process (and still seeks to obtain new knowledge via new analytical processes or the fan panel) to accommodate a timely matching of expectations in relation to the needs of the fans. Manchester City's web site is a good example of a club that works seriously on giving fans good access to the club and therefore builds a good path to the club's tangible and intangible service elements. The differentiating point is that Manchester City has sought to build a comprehensive platform so that the fans do not necessarily feel the need to enter other platforms to gain appropriate information about how the club performs and what it has to offer, cf. 'seek to exceed fan expectations'. The interesting aspect from Manchester City's offering via the club's web site is that it contains the most common information, i.e. match reports and match highlights. It also contains comparable player statistics and the coach's notes. This is a good cocktail when considering the data driven trend, which has influenced top football in recent years. To exemplify this, statistics about the sporting performance are transferred into commercially oriented fan communication. Manchester City emphasises this by offering a web site with enhanced and integrated interaction options. Fans can enter discussions about match results and performances and engage with other fans in that regard. These options turn the web site into the most obvious place to unite the club's fans across demographic and psychographic differences. Additionally, the web site offers a targeted approach towards specific fan segments, e.g. kids via the club's 'Junior Citizens' site.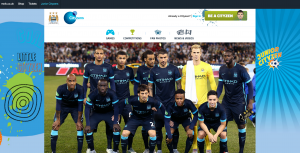 Photo: Manchester City's 'Junior Citizens' site.
Concerning consumption and stadium experiences in the football economy, an example of an innovative and interactional initiative is one that gives football fans the opportunity to choose their seats by having a good digital impression of the live fan experience viewed from the specific seat. Newcastle United walked the extra mile in offering an interactional experience when the club and its sponsor PUMA implemented a 'fan cam' experience through which fans could zoom into a picture of themselves from a specific match by using a 360-degree stadium display. The experience was integrated with Facebook and Twitter and allowed fans to 'tag' themselves and share it with their friends. Football fans had the opportunity to experience something similar in relation to this year' s UEFA Champions League Final in Berlin between Juventus and FC Barcelona in association with UEFA sponsor UniCredit. These kinds of fan activities add a financial CRM-element and the clubs can apply these solutions to engage with the growing fan segments to be found via virtual social fan networks.
Photo: Newcastle United's and UEFA Champions League's 'fan cam' experiences.
The right targeting is key when striving to improve commercial campaigns. For instance, it is easy to conclude that Hamburger SV (HSV) from the German Bundesliga does not have the same global fan base as league rivals FC Bayern Munich. Nonetheless, it makes sense that HSV in campaigns addresses its socially oriented initiative 'Der Hamburger Weg' towards the club's large local and regional fan base. The same is seen in other leagues and clubs to enhance the local and regional goodwill. For instance, it may be a good idea for clubs in leagues that do not play over the Christmas season that these clubs arranged a health-walk around the Stadium area followed by a Christmas party in the stadium. From my viewpoint, this would be a relevant way to build and develop fan relations outside the season while utilizing the stadium as a positive venue for experiences during and after the season. At the same time, the club takes a social and local and regional responsibility, which goes beyond sporting experiences.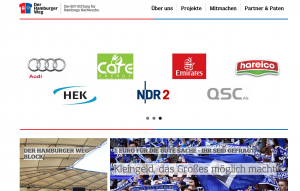 Photo: HSV's 'Der Hamburger Weg' initiative.
The need for effective fan relations and CRM-programs is stressed by the cultish and tribal passion devoted to football and sport brands. The CRM-approach can facilitate that product, service and experiential offerings are tailored towards fan demand, which is significant when considering that these offerings and their components are discussed in every detail and are subject for massive media attention. This is seen in the Hamburg club FC St. Pauli where the club's cultural DNA does not allow the same sponsorship focus on luxury brands as seen in bigger German clubs. For instance, Audi and FC St. Pauli fans do not go hand in hand to the same degree as FC Bayern Munich fans and Audi.
Technology is a relevant tool to generate 'real-time' data about respective fan segments' needs regarding the match experience. Therefore, clubs have invested in wireless solutions linked with fan consumption. That is a good instrument to motivate and reward fans when offering fan discounts for merchandise. It works well in recruiting and retaining fans to stay at the stadium for a longer period of time on match days, as they need to make use of the good discounts in the fan shop. This is an example of an effective CRM- strategy, which communicates with fan segments and is rooted in solid data collection, analysis and understanding and that considers the economic and emotional elements influencing fan behaviour. This tendency is very popular in the American major leagues but has also won popularity in European arenas via the investments in wireless technology, e.g. Manchester City's partnership with SAP or Real Madrid's partnership with Cisco Systems.
The psychological and emotional aspect of pride associated with the club is an asset that needs to be reinforced in a club's CRM-activities to establish and improve the feeling of ownership and excitement among fan segments. Often, fans want cheaper tickets but value creation is not necessarily about cheaper tickets. Clubs must investigate whether that is the case. In cases where fans want cheaper tickets, value creation should be tied to linking fans closer to the club through targeted discounts to reap the benefits from better and more engaged fan involvement. Fan involvement is vital because it is a permeating fan need. The disadvantage of lacking fan involvement was exemplified in Liverpool FC when Hicks and Gillett owned the club. The contrast is Hammarby IF in Sweden where the fan involvement and identification is fantastic although the club does not perform at the highest level and that has to do with the mutual interaction between club and fans.
The balance in the operational process of CRM in football and sports is about the right segmentation and the mix between transactional and relational strategies, i.e. clubs must measure the costs against the benefits and the fan behaviour. The latter has to do with what benefits the fan segments demand and how the selected solutions affect the fan segments' identification and tribal behaviour. Finally, clubs must analyse this from a profit seeking perspective and assess how this influences the loyalty rates over time.