As an appetizer for the book Marketing & Football: an international perspective (Desbordes, 2012), it is emphasized that (see citation below) "Football is arguably one of the most important sports in the world, and the marketing of football has become an increasingly important issue, as clubs and product owners need to generate more revenue from the sport. In a wider context, football marketing has also become a benchmarking standard for other sports to learn from worldwide. The practices and processes of such an established industry are important lessons for those sports which are yet to maximise on their potential earnings, and provide interesting lessons in sports marketing in general."
David Beckham is a perfect example of how football player stardom translates into better commercial returns for associated teams (club as well as national team level), sponsors, media, and his own business ventures. Beckham moved from Manchester United to Real Madrid in 2003 at a time when TV deals, new technologies, football globalization and commercial innovation seriously sparked in Europe. Thus, when holding this together with his iconic position in the popular entertainment industry, Beckham became a trendsetter for how postmodern football management and football marketing is done at the finest levels in global football. Christiano Ronaldo and Neymar are more recent examples of players following in the footsteps of Beckham as gigantic marketing vehicles capable of making a huge impact on and off the pitch.
Right now, I am working on research concerning football players' identification levels in relation to respectively the sporting and business side of football management. Top football players should know that their professional status makes them celebrated phenomena with a public appearance that links to the junction between sports, entertainment, fan, corporate, and media interests and hence guides commercial opportunities. Due to the fact that 'too many' players and teams are not cognitive about educating and managing football players properly in this regard, many commercial opportunities are not fully exploited or go down the drain.
Think about these scenarios. Top teams like Real Madrid, Manchester United, Bayern Munich, Paris Saint-Germain, and Manchester City are in a position where commercial revenues account for the largest percentage of total revenue generation when measured against matchday and broadcasting revenues (Deloitte, 2014). This is evidence that sponsorship revenues are important when maximizing revenues for a football club and it also reflects that these clubs are global brands with an understanding of turning that into revenue generation. However, even for these clubs there are examples that the players' identification with the business side of the club can be optimized. Additionally, for clubs or leagues in which broadcasting revenues are at a significant lower level than for the above-mentioned clubs and/or leagues, sponsorship revenues and thus the understanding of how to turn points of commercial stakeholder interaction into profitable relationships is even more vital. The football economy is characterized by a wages/revenue ratio in which player wages take up a large portion of revenues. This is unlike other industries for what reason football players should be more responsible for contributing to the business side (generating revenues) of club performances. A couple of weeks ago, the Danish Super League almost stood still because of strike as a consequence of a conflict between the league and the PFA. A strike would have had negative sporting and commercial consequences for the clubs and would upset fans, sponsors, media and other stakeholders and would not have benefitted players either so it was good that the parties came to agreement. This example should also be a learning experience for all involved parties in the sense that it would make sense to educate players to pay more attention to the business side and professionalize this process and make players aware that they will benefit from it – not only by helping their employer but also by lifting their own role as a player focusing of sporting performances but capable of boosting club revenues as well. The latter may result in better sporting opportunities in the long run as we have seen in David Beckham's case since it may be a tipping point for clubs in contract negotiations and player decisions that you can perform on and off the pitch. From a ceteris paribus perspective, this may also lead to the club not letting go of you as a player if they value the overall package against other players. Professional football should be very PROFESSIONAL in that regard and valuate their players from a more holistic angle that also considers the business side. Of course, players have a mesmerizing effect on their surroundings if they perform well on the pitch but given their attention grabbing capabilities there are many unexploited commercial opportunities off the pitch. Following the media agenda, it is not uncommon to hear, read or watch that football clubs are victims of 'poor management' concerning profit generation. This illustrates the 'media darling advantages' of clubs and players and mirrors an industry where the cognitive road from attention to revenue generation should be easier than in many other industries. Sometimes, you experience that players call in sick after leaving practice if they have to meet corporate visitors that are vital for the business of the club and you also witness too many stories about improper player behavior whether that is in the players' leisure time, on the pitch, or in front of a rolling camera. Therefore, there is great potential for clubs to implement processes that can exploit the activation potential of players due to their roles as the most important assets of football clubs. Going back to David Beckham, Andy Milligan, who is the author of Brand it like Beckham noted when writing the book in 2004 that "There is no one quite like David Beckham: brilliant footballer, dedicated athlete, fashion model, global icon and all-round celebrity. David Beckham is not only a much celebrated sportsman, he has also become one of the best known brands in the modern world, with earning power to prove it." As actors in a celebrity- and attention-concentrated economy, professional footballers can also benefit themselves by helping their clubs as there will most likely be a positive spill-over to their own brand and thus revenue-generating potential as an endorser for or actor in co-branding initiatives for various brands from other industries. Ronaldo's footballing and commercial competencies have given him almost 100 mio. followers on Facebook and that shows a culminating level of commercialization for an individual player and the associated clubs and the Portuguese national team. Take the national team as an example. The team does not have the same opportunities as Real Madrid to activate Ronaldo's presence for what reason they can benefit even more from the fact that he has been so active in building his own brand. My point is that proper brand activation in football stems from the fact that a brand is continuously activated and articulated, also outside the pitch. Take Neymar as another successful global football brand. He will continue to peak and hopefully his brand activation will see new crowning heights during the Rio 2016 Olympics. From the 2014 FIFA World Cup in Brazil, I recall what happened before Brazil's semi-final against Germany. Think about the image when Julio Cesar and David Luiz lined up during the national anthem in a very sentimental way whilst holding superstar Neymar Jr.'s #10 jersey. That was a key moment illustrating Neymar's high level of brand equity. Despite being injured, Neymar's brand presence shined through the clutter and grabbed the attention of eyeballs worldwide and proved its ability to move market shares for almost any brand and his virtually religious status in Brazil did not suffer from him not playing in the big loss to Germany. Neymar STOOD OUT as the superstar on a team that proved to be average without him so in terms of that he did well in portraying a game-decisive ability linked to very potent marketability and he has for sure entered the global stage along the likes of David Beckham, Christiano Ronaldo, and Lionel Messi. His attachment to FC Barcelona underscores the ability to stage his brand in even more remarkable ways as the FC Barcelona and Neymar marriage demonstrates a hybrids sports branding process that will be extended further when playing in the UEFA Champions League and in relation to Brazil's preparations for the RIO 2016 Olympics. Still, there are potential for improvements and although many people throughout the world speak Spanish or Portuguese an improvement of his English skills would be a profitable education.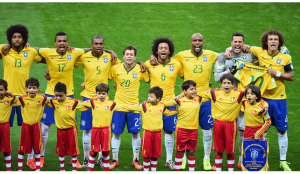 Photo: David Luiz and Julio Cesar holding Neymar's jersey (source: Yahoo).
When analyzing football economic patterns, it is evident that many sponsors in a business environment, which has been influenced by financial difficulties, have moved away from 'con amor' and hence require a higher degree of 'value for money' from sports properties. Therefore, it is essential that football clubs and players understand that sports sponsorship is a 'two-way street' in the sense that it is a dialogical and strategic partnership, which should facilitate knowledge sharing, mutual resource allocation and proper feedback and evaluation meant for profitable progress during the sponsorship agreement's development process. Moreover, this understanding should emphasize that activation initiatives are meaningful for all parties for what reason they should not be constructed as a nonspecific option for the club, its players and the particular sponsor but rather be created as a tailored solution stemming from a constructive dialogue. In other words, football clubs and its players must move away from traditional short-term perspectives on sports sponsorship and sports branding and recognize the growing commercial potential tied to strategic application of asset management (e.g. enhanced player involvement and player activation), which will create more long-term commercial value for all parties. In doing so, football clubs and players will experience that they move away from a rather static approach to sports sponsorship and sports branding and apply a dynamic and more in-depth and varied tactic that gives added commercial meaning due to the complexity of any inter-organizational and inter-personal relationship. Under such circumstances, all parties must contribute to take advantage of this complexity and players like David Beckham and Christiano Ronaldo are examples that the players' performances on the pitch are not necessarily minimized due to commercial obligations. In the Danish Super League, Hobro IK (a newly promoted club where the players are not fulltime professionals), serves as another example that players may be motivated from having other obligations than the sporting performance to account for. Actually, it may be motivating and de-stressing to have other things to think about; especially if these activities are meaningful and offer players the opportunity to learn and to develop as human beings, e.g. by giving players job competencies to be utilized after their active playing careers. Christiano Ronaldo is a perfect example of a modern player at the highest level that has obtained great business competencies from being engaged in his own sports sponsorship and sports branding agreements and that have added considerably to clubs like Manchester United and Real Madrid.
Looking at the ROI angle, this approach will lead to more mature and beneficial strategic partnerships and I am sure that we will see that sports sponsorship and sports branding solutions will continue to be shaped in this direction as more and more clubs and players appreciate this aspect of asset management. Teambuilding, coaching and motivational factors are common disciplines that have been transferred from the sports world into the business world so why not utilize the know-how and expertise of sports properties in relation to 'learning sponsorships' that form the basis commercialization at the heart of sports2business. This may facilitate a whole new revenue stream for the sales and marketing departments of football clubs and may also inspire clubs in terms of applying meaningful and holistic management, which will motivate the players. This may also be integrated in relation to media communication and media relationships. Consider all the varied tactical aspects of football management, which may guide football management and football marketing to a higher level, i.e. some clubs are very sophisticated concerning player data and the general media coverage may not fully recognize the value of a particular player. For instance, it is visible that a particular player may score x goals and have x assists per season. However, you may not know that he has been on the ball in the action right before the assist or have taken part in the play in other ways that led to a goal. In addition, you may not know that his ability to quickly and effectively grasp what goes on and to turn that intelligence into a technically gifted pass adds considerably to the flow of the game and gives his teammates extra moments on the ball for what reason the team creates more and better scoring opportunities. Knowledge like that may be valuable knowledge that clubs and players want to share with the media as the media are craving stories that present differentiated angles of the game; this is especially true in an era where football shows are more than highlights and results but entertaining programs meant to display all aspects of the game. When there are commercial potential in such processes, clubs and players should work as balancing strategic resources interested in the synergetic effects that arise when different parties (e.g. clubs, players, sponsors, media, fans) collectively produce more valuable outcome than the short-term sum of what develops from the individual donations of one particular sponsor. So clubs and players along with football's governing bodies must articulate and educate each other in optimizing professional football properties' most valuable assets, i.e. its players. It is fine that UEFA implements FFP and that there are different governing factors meant to protect the sustainability of the game but football's leading actors (e.g. FIFA, UEFA, FAs, PFAs, leagues, clubs and players) also have a responsibility regarding smart ways to protect the major investments linked to professional football, i.e. investing in players and thereby education of players. In that regard, it may make sense to implement some routines in terms of player investments that will enforce some sustainable mechanisms (e.g. educate players and club managers about this) so that football clubs and their players can generate additional competitive advantages that are very differentiated and thus hard to copy due to the integrated social capital and relational investments. From my perspective, we have a reality in football, in which too many clubs and players are not fully cognitive about the fact that proper commercial preparations will enhance commercial performances just like proper football training will enhance football performances.
The power of a good sports brand lasts for a very long time. Pelé is an example of that in football. He dominated the football world for years and led his country to three World Cup titles and still shines with his presence in essential football discussions. He knows how to appear with a good blend of football proficiency and personal charisma and that is a powerful cocktail. My point in terms of underlining Pelé's role in this writing is to highlight that if football properties start to acknowledge the above-mentioned processes to a higher extent, then we will start to reform the current culture and come to a new reality. This new reality will make it harder for football's commercial stakeholders to live without a intimate relationship with a club and its players and that is MONEY IN THE BANK because then clubs and players can boost their abilities to influence purchasing decisions and positive brand transfers and brand capital generation. Concluding on this, I feel that it serves a purpose to nurse a scenario where clubs and players can see the advantages of bringing holistic player development plans and individual branding campaigns into contract negotiations (given that they can get around potential commercial conflicts) because this will enhance the impact on a wider range of football's commercial stakeholders.
Sources:
Desbordes, M. (2012). Marketing and football. Routledge.
Milligan, A. (2006). Brand it like Beckham. Interna.