The English Premier League broke with a summer transfer spending of £870 mio. the previous transfer window shopping record. This is an increase of approximately 4% from last year's record of £835 mio. Another record was broken on the transfer market as the accumulative spending for the January and summer transfer windows surpassed the £1 bn. point.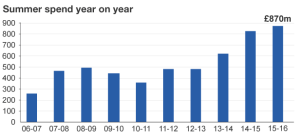 Table: Summer transfer spending in the English Premier League (source: BBC).
Manchester United's purchase of young AS Monaco forward Anthony Martial was the biggest transfer deadline-day spending on one player while Kevin De Bruyne marked the most expensive player when he transferred from German Bundesliga club VfL Wolfsburg to Manchester City. Given the evolvement of Manchester City in recent years, it is no surprise that the ambitious and newly rich club became the biggest spender of all the Premier League clubs in this window.
This development shows the pattern of English Premier League clubs spending part of the enhanced broadcasting revenues to invest in players and thus the likelihood for positive competitive advantages on the pitch. In doing so, the capital injections from broadcasting deals explain why the Premier League continues to dominate other European leagues in transfer spending, cf. see table below.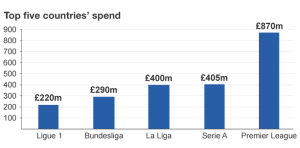 Table: Summer transfer spending in the top five European football leagues (source: BBC).
Most of the spending went to overseas clubs (£585 mio.), which accounted for 67% of total gross transfer spending by the Premier League clubs and an increase of 10% compared to last summer. So what is behind this spending spree? Simply, the sporting competition is fierce and the ability to maintain Premier League status or to secure European access for the better teams are reasons that have a colossal financial impact on the clubs' business models and realities. Starting next season, the effects of the broadcasting deal are enhanced, which means that each club will benefit even more from playing at the finest stage. So clubs invest to keep or improve their positions; that is the DNA of the football economy. Given this revenue development, it is easier for Premier League clubs to spend money on players and still strive for profitability; the gigantic TV rights deal basically distances the league from its European rivals.