Professional sport speaks a powerful voice in terms of shaping people's opinions. Football is the world's most popular sport and the global super stars of the game are dominant spokespersons and opinion leaders. Assisted by some of these super stars like Mesut Özil, Bastian Schweinsteiger, and Toni Kroos, the German National Team featured in a CSR-related campaign in which these players flagged cardboard messages to show tolerance, respect, helpfulness and a sense of fair play and openness.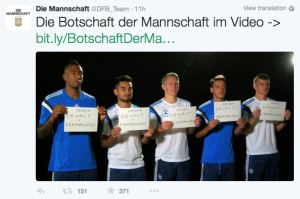 Photo: German football stars taking a CSR-stance to improve the world (source: the team's Twitter account)
The timing is perfect as many eyeballs are following the team prior to the team's vital game against Poland in the 2016 UEFA EURO qualification tournament. At the same time, the team meets a present societal challenge. The German idols want to set a benchmark example and want to help solve the global social challenge for Germany and Europe in terms of receiving refugees. In a statement, the German Football Association said that it is important to strive to support these refugees. The association and the team wanted to take an offensive approach to fight these challenges and to show that it is a good fit with the positive attitude towards integration, tolerance, violence and respect that 'die Mannschaft' has applied over many years. Players from the team principally said that nobody should accept that refugees are being kept in trailers of trucks, they have suffered enough already.
From my point of view, this is an effective example of CSR in sports that is wrapped in good activation activities. For instance, this week the German team will meet a football team of refugees and will also visit a refugee camp in Frankfurt. The initiative is well-timed at a time of much turmoil in Europe and thus it leverages much goodwill and also reflects a high degree of 'commercial idealism', which is important when striving to capitalize on CSR efforts in sports.