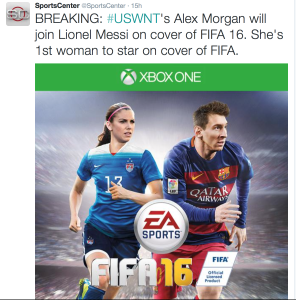 Photo: #USWNT's Alex Morgan on the cover of FIFA 16 (source: SportsCenter's official Twitter account)
When the US Women's National Team (#USWNT) recently won the FIFA Women's World Cup in Canada, the team created enormous hype on social media platforms. After the final win against Japan and the #USWNT's first world cup title since 1999, social media platforms were bombarded with applauding messages. The positive appraisals for #USWNT and for a spectacular and changing moment for women's sports shined through the surface and hold promises for enhanced commercial support in women's sports.
Cultural icons from President Obama to Taylor Swift participated in the festive online articulation of the #USWNT's success and boosted the positioning of the team and its players for a heroic accomplishment, which blends well with the tendency to worship sports stars and elevate them to heroes. Top players like Hope Solo, Alex Morgan and others were in high demand.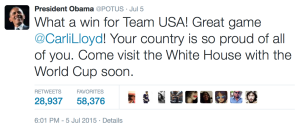 Photo: President Obama showing his support for the #USWNT (source: official Twitter account of President Obama)
The FIFA Women's World Cup Canada 2015 and the event's 52 matches and total attendance of more than 1.35 million over the span of 30 days broke new records (source: Fifa). The #USWNT won a notable third title and the event presented a new total attendance record. Seven of the matches in the tournament had more than 50,000 fans in the stadium. Several of the participating countries also noted television audience records. For instance, FOX saw its largest ever audience for a football (soccer) match in the US with an average audience of 8.4 million for the semi-final. CTV and RDS set a new Canadian viewing record for a FIFA Women's World Cup match with an average audience of 3.2 million for the quarter-final. In Japan, Fuji TV recruited more than twice the amount of fans for the semi-final compared to the FIFA Women's World Cup Germany 2011 (with an average of 9.3 million viewers). Additionally, television networks in Norway, Korea Republic, Australia, Brazil, and China broke the highest television audience for any match compared to the event in Germany in 2011.
This information tells a story of top women's football gaining increasing popularity as a spectator sport, which is aligned with the sport's growing participation rates among youth female players over the past decades in many countries. The engaging online conversations regarding the #USWNT is also supported by numbers from Fifa that display a growing digital engagement around the FIFA Women's World Cup. 20 million unique visitors joined FIFA Women's World Cup section while digesting 225 million pages and spending 7.8 billion seconds engaged. Compared to the event in Germany in 2011, Fifa recorded a 178 % increase in daily visitors to its Women's World Cup section while seeing significant increases in Twitter followers (81%).
In general, the #USWNT found a perfect storytelling in the culminating intersection between securing the FIFA Women's World Cup title and the well-orchestrated storytelling from the preparation phase over the span of the sporting performances during the tournament and to the celebration festivities following the 5-2 win against Japan in the final. The videos below portray this process. The #USWNT players have been very participative in turning their on-pitch success into a commercial off-pitch success. Take a look at some of Alex Morgan's Twitter activities below.
Photos: The #USWNT star Alex Morgan's Twitter activities (source: Alex Morgan's official Twitter account).
Given that these female athletes have accomplished great sporting success and have engaged deeply in producing relevant content in relation to an event that has grown in popularity over the years and a sport (football) that is the most popular in the world are actions that construct new branding weapons for female athletes. As illustrated above, Alex Morgan's engagement (and that of other stars like Abby Wambach, Hope Solo, Carli Lloyd and Megan Rapinoe) prints a story of how far women's football and thus the players have gone in terms marketability. They are still far from the male players like Christiano Ronaldo and Lionel Messi but these examples are steps in the right direction. Fifa did well concerning the production of excitement around the event and for the #USWNT this is fine targeting aimed at the younger generations that are very passionate about football. Now, the rights holders have probably learned from past experiences of female athletes and understand what it takes to stay in the commercial limelight for a longer period of time. These athletes have been very visible and engaging and that enhances marketability in a market that has been characterized as a buyer's market. I certainly believe that this success on and off the pitch can help these female athletes optimize commercialization on the road to the next big event, i.e. the RIO 2016 Olympic Games.
Corporate brands have most likely learned that these female sports personalities as well as female athletes in other sports are cost-effective marketing vehicles with vibrant reach and relevance. Commercialization in professional sports have been dominated by men for a very long time and it will most likely stay like that but women deserve more commercial investments and that will break some barriers in terms of changing the playground by giving women better opportunities. Corporate brands must recognize this and take ownership, which will provide some market-oriented first-mover advantages. With that being written, business can also take care of some of the gender inequalities in sports and benefit from it. Female athletes may be associated with the gender role of being a mother but the performances of the #USWNT have underlined that these women are also heroes. Businesses and thus corporate brands can exploit the obvious commercial potential tied to female athletes and thus make sure that the percentage of sports sponsorship and prize money directed to female sports will increase. Let's see what the future brings but there is potential and these hard-working and successful female athletes deserve the positive spotlight and the capitalization impact. One example of a corporate brand that seems to take this seriously is Barclays. The financial brand has not renewed its Premier League sponsorship but has revealed that it will support women in football. That is a great development. Now, the sports world needs more sponsors to follow and to motivate the industry to accept more female leaders, coaches and athletes. If that is the case, business will most likely follow.