Entities in the business of sports possess extraordinary assets that make them somewhat recession proof if competition and market-orientation is tackled in the right manner. From 2008 and through the following four to five years, society faced financial turmoil that also influenced the business of sports in terms of an enhanced fight for sponsorship money and fan spending. However, the passionate attachment to sports and the launch of passionate and (often) creative marketing solutions are assets that have turned the business of sports into a giant engaging playground filled with creative strategies capable of turning money spent into money earned.
Letting stakeholders play with their brands is one effective characteristic of successful sports brands. The potent presentation of what these sports brands have to offer stems from the many events and touch points through which sports brands can approach stakeholders. This provides a unique opportunity to drive the unconscious and conscious positioning of the brand (and partnering brands) in the minds of these stakeholders. In this sense, other industries are envious when they strive to follow some of the attention seeking strategies of sports brands but there is no better PR machine than sports when it comes to grabbing the attention of consumers and other stakeholders. Sports appeal to the senses and the best comprehensive experiences of a sports event feature a main event that is surrounded by many entertaining and relevant sub-events to create a sensory surplus meant to create business and to reinforce sport's societal role as a unique entertainment product that gets under the skin of stakeholders with its dramatic, uncertain and exciting outcome. The biggest sports events thrive on a global scale, e.g. the Super Bowl, Wimbledon, FIFA World Cup, Olympic Games, F1, UEFA Champions League, Tour de France, Ryder Cup or Rugby World Cup, and these rights holders know how to produce a paradise of sensory experiences that involve music, dancers, flash mobs, digital and online opportunities, sports imitation and 'play like a pro' creations, F & B and so on. These experiential offerings are carefully tailored to the stakeholders as a cultural representation of what the specific sport and event stand for in conjunction with stakeholder needs. For example, Wimbledon's traditional culture shines through in the champagne bars and the iconic strawberries & cream offering while Super Bowl's commercial extravaganza is reproduced in the surrounding advertising focus and the high-status label of being part of the event's half time show.
Focusing on sports from a global to a local level, the important action for sport marketers is to acknowledge what differentiates YOUR BRAND from that of your competitors. This proactive action pattern must be grounded in finding a path that breaks away from the norm while still accepting the cultural assets of the given sporting experience and how that may translate into business opportunities. My point is to give credit to the creative solutions that are non-standardized in a good way, i.e. meeting the needs to shape business potential positively and to optimize home game advantage (take advantage of the strengths of your cultural DNA) by offering unique stakeholder experiences. This was exemplified by the partnership between Adidas and New Zealand Rugby Union in the 'Bonded by Blood' initiative that creatively emphasized the sponsorship partnership's activation of the All Blacks rugby team inked in fragments with the blood of the players. This unique and creative stunt generated much more attention than could be expected from the campaign's budget for print, purchasing points, web and PR and the campaign definitely understood to underline the cultural signature of the All Blacks.

As with the All Blacks example, every sports event displays a market-oriented opportunity when fans and other stakeholders are present in your venue for a couple of hours so my advice is to represent the sports brand in the best possible manner and to stage an experience that delivers to the brand promise in relation to what is expected but also an experience that goes the extra mile to specifically market unique assets of the sports brand aimed to provide new business. The NCAA has been excellent at doing this for the NCAA March Madness basketball tournament, see also this link. Tons of Americans play along and yield their brackets to determine what team will win the national collegiate basketball title. For the span of three weeks, fans are closely attached to the event to follow the excitement of favorite teams losing, the Cinderella stories of popular teams and the shining moment of Duke that won this year's title. That is perfect time for rights holders, media, corporate sponsors and fans to interact and to co-create commercial value through the experiential platform of collegiate basketball, cheerleaders, bands and the activation of outreach programs for kids via basketball. It is no surprise that the success of the NCAA lays in acknowledgement of and the activation of brand presence with the weight on timing; the best timing is when there are attentive spectators that have your product and its cultural DNA in mind.
Photos: NCAA celebrating this year's national basketball champions Duke Blue Devils and NCAA music festival (source: NCAA).
Take a look at the videos below this section. These videos portray how NBC Sports Network utilizes football (soccer) as a way to win market shares. In various illustrations of football tribalism, the network has reinforced football's fandom experienced in funny and creative ways and blended that with what is relevant content among football enthusiasts. This helped the network grow its audience base considerably and the videos created a viral impact in markets far away from the US.
The ability to create this kind of halo effect in terms of influencing opinions in another area shows the agenda setting capabilities of the business of sports. This has also been applied by the car industry's engagement in motor sports, which forms a perfect brand extension into devoted sports like F1, NASCAR and other motor sports events. So, when Mercedes or Ferrari are present in F1 or when Aston Martin or Audi strives to excel in Le Mans, this shows the importance of linking with global segments and adds brand equity to the car manufacturers' consumer brands. This happens in the 'hybrid sports branding' process in which the car brands attempts to activate their connection with the drivers in 'come and meet the driver' events or via racing car presentations that show the correspondences between these and cars for the B2C segment. That element is characteristic for top sports and the application of the 'celebrity effect' for business purposes; more people seem to want to ride a bike during Tour de France or to play tennis during Wimbledon or at least to debate these sports more intensively.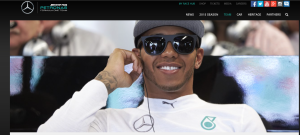 Photo: An exemplification of how Mercedes creates activation opportunities around champion driver Lewis Hamilton (source: Mercedes AMG Petronas F1 team).
Staying loyal by delivering to the brand promise and to match stakeholder expectations are also key elements in building an affectionate and following crowd. In that sense, it is interesting that the new broadcasting deal for the English Premier League has been a record-breaking capital injection for the clubs but that fact has not sparked the clubs from putting a constraint on their fans by not lowering the ticket prices. West Ham came out as an exception to break away from what many fans anticipate to be an arrogant approach to revenue maximization due to the high fan demand for football at the expense of fans. This may hold some creative potential for football clubs in England as the events around cheaper tickets may boost fan loyalty and boost other revenue streams and long-term sponsorship support.