Photos: Valentino Rossi, MotoGP's famous no. 46 (source: Rossi's official web site).
Valentino Rossi turned out to be the first rider to accomplish 200 MotoGP podium endings when he came in third in Jerez last month. The Movistar-sponsored Yamaha rider and Italian multiple MotoGP World Champion stands out as the best motorcycle racer of all time and has been a tremendous ambassador for the sport and has created a proud legacy around the famous no. 46. His accomplishments reflects what a sport needs to grow its commercial potential. His energy, seriousness and curiosity has sparked his business value and that of the sport. In 2006, he created some buzz when testing a Ferrari F1 car in Spain and doing fairly well in the second test day and being praised for his talent by F1 legend Michael Schumacher.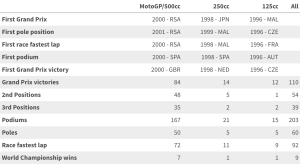 Table: Summary of Valentino Rossi's career accomplishments (source: MotoGP).
Analysis conducted by Sports Sponsorship Insider shows that Rossi's dominance spills over on the Movistar Yamaha team although Ducati leads the commercial circus when measured on annual sponsorship generation, see infographics below. This research also depicts that sponsor categories are dominated by traditional (for MotoGP) industries like oil & gas, tires and cars while new industries like telecommunications, energy drinks and gaming have intensified their investments in MotoGP. Not surprisingly are five out of 18 MotoGP competitions (title) sponsored by energy drinks Monster Energy and Red Bull while Monster Energy also is involved in team sponsorships. These brands have found a perfect strategic match in extreme sports.
Infographics: Sponsorship development in MotoGP (source: Sports Sponsorship Insider).
However, when mentioning Valentino Rossi and the commercial boost that stars like him can add to a sport, there is no doubt that MotoGP is facing fierce competition for sponsorship revenues from larger and not as niche-oriented sports so MotoGP would benefit from tighter rivalries and thus more racers at (or close to) Rossi's level. Right now, the sport faces the challenge of being able to move away from the current image of a championship between riders from Spain and Italy. That is a huge challenge for a sport that is dependent on increased global appeal to attract increased sponsorship income. The latter is associated with the ability to sell broadcasting rights and other commercial rights (corporate sponsorships, brand extensions like video games etc.) in different markets and therefore tightly connected with the sport's global appeal and the potential of attracting promotion money from hosting committees.