With the growing influence of eSports worldwide, it is interesting to consider the synergetic effects that arises when professional sports clubs invest in eSports.
Digitization and eSports being accepted by sports governing bodies
Research (Hallmann & Giel, 2017) has studied whether or not eSport can be called a 'sport' by evaluating 5 elements (physical activity, recreation, competitive elements, organization structure and acceptance) of sport and by measuring eSport against these characteristics. It was concluded that eSports hold fine opportunities to become accepted as a sport but there is still some way to go (especially because of resistance from leading governing bodies due to the lack of an intensive physical element). From my perspective, the acceptance of eSports will bring even more synergetic effects for professional sports teams investing in eSports as forecasts show continued growth for eSports which is central in an era where professional sports teams face obstacles engaging with younger generations and where the rapid wave of digitization does not signal to slow down.
"Ein massiver Schritt nach vorne", heißt es vom @ESBD_Verband-Präsidenten @hagnow. https://t.co/UebX3C1VTt

— kicker | eSport (@kicker_eSport) February 7, 2018
Taking advantage of the sporting resources of professional sport clubs
Being an eSport athlete does not necessarily require the same amount of fitness as a football/soccer player or does not require to spend the same amount of time on strength training as an American football player but working out and training ambitiously is also vital for success in elite eSports. The same goes for the mental aspects of eSports in which concentration and mental focus is critical. Therefore, there is a sound rationale in linking eSports with the existing competent support functions of a professional sports team, e.g. nutritional expertise, mental coaching, physical trainers and access to the infrastructure of the professional club. The latter is important in relation to building a training and development environment, which takes eSports athletes to better platforms of learning and development just as seen in professional sports. 
Below is an interesting example of what the German football/soccer club VfL Wolfsburg has done to build synergetic effects. The club has done well in integrating eSports with its football/soccer youth academy and by specializing in the video game FIFA. Especially when linking up with the FIFA video game, there is so many positive brand transfers on which to capitalize. Just consider the sponsorship side as sponsors are also looking to gain more value from their sponsorship investments and thus the engagement with younger target groups.
Sport and eSports fall under the umbrella of experience economy
According to Hallmann and Giel (2017), the experience economy as coined by Pine and Gilmore (1999) offers progression of economic offerings in the form of experiences and transformation, which takes commercialization of sports another step forward from solely focusing on products and services. Sport and eSports have the ability to produce remarkable, memorable and extraordinary experiences and levels of transformation and there is good synergy to reach between eSports and how virtual reality and artificial intelligence start to play a bigger role in professional sports. My point is that to really understand a specific context, e.g. virtual reality and artificial intelligence, professional sports teams must interact with that context and here can eSports provide valuable expertise. Studies in eSports (Seo, 2013; Hallmann & Giel, 2017) have found that the practical utilization of eSports characterizes Pine and Gilmore's (1999) four realms of experiences in that 1) broadcasting channels and eSports platforms, e.g. Twitch, mirror the entertainment elements, 2) governing bodies and consulting agencies, e.g. operated by former professional eSport athletes such as ESPORT SERVICE in Denmark, portray the education elements, 3) the growing number of gaming platforms, schools offering eSports and Internet cafes, e.g. as seen in the photo below, is an exemplification of escapism and 4) the sophisticated staging of eSports tournaments, e.g. as done by ESL as seen in the tweet below, offers an aesthetic aspect.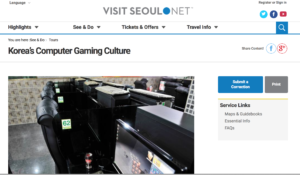 Photo: Visit Seoul's web site promotes the country's gaming culture and gaming cafes.
The #ESLProLeague Season 7 is kicking off in just three days!

Check out our website for the best ways to watch the matches!
➡️ https://t.co/rQL4eIFe6d pic.twitter.com/JWmFwqe7ks

— ESL Counter-Strike (@ESLCS) February 10, 2018
The future of acceptance – eSports likely to be accepted on a global scale
Gaming skills like hand-eye coordination and reaction speed are critical factors in eSports so although the physical elements are not as visible as in football/soccer, handball, basketball, baseball, tennis or badminton, there are sporting elements like tactical creativity, mental readiness and competitions that speak for eSports being accepted under the official sports governing bodies. When comparing eSports with other sports that are accepted such as dart or chess, there is definitely room for acceptance of eSports. However, IOC President Thomas Bach has questioned the 'sporting element' of eSports (physical activity), see here. Nevertheless, I believe in eSports being accepted worldwide in the years to come because powerful and lasting trends cannot be ignored in sports. Moreover, the synergetic effects between professional sports and eSports are more visible than linking the commercialization of professional sports with chess or darts, especially because the pace of digitization in that context. 
Like in the VfL Wolfsburg example, I believe highly in the organic growth of eSports through the organization structure of the club model as seen in many European countries, e.g. Germany and Denmark. This model stresses that there is good accessibility to sports participation across different sports and that sport is highly inclusive. Furthermore, the public sector, e.g. cities, municipalities, and ministries, and a strong breeding ground of volunteers support the functioning of the club model, which adds a level of acceptance among members that provides a strong platform for knowledge sharing. Finally, the club model in interesting in that its informal structure offers the opportunity for eSports and other sports to interact and find a common way to fruitfully influence the future of sports while keeping the importance of physical activity important in all areas of the club model. My experience from Denmark and other countries in the western part of Europe is that the integration of eSports at the club level will impact eSports elsewhere and just as seen in South Korea will take an agenda-setting role given the access to computers and bandwidth and fiber optic networks and the balance between school, work and leisure time activities. With this in mind, I believe that it will be a healthy decision to accept eSports and to do it with emphasis of integrating eSports into the current club model to an even higher degree.
References: 
Hallmann, K. and Giel, T., 2017. eSports–Competitive sports or recreational activity?. Sport Management Review.
Pine, B.J. and Gilmore, J.H., 1999. The experience economy: work is theatre & every business a stage. Harvard Business Press.
Seo, Y., 2013. Electronic sports: A new marketing landscape of the experience economy. Journal of Marketing Management, 29(13-14), pp.1542-1560.