As a natural follow-up on my perspective on Neymar's commercial potential on this blog, it is interesting to look at the new English Premier season and its star players. In that regard, 'REPUCOM's Celebrity DBI tracker' found that Robin Van Persie from Manchester United was the star player of the Premier League, who offers sponsors the most 'value for money'. Van Persie's attractiveness as a 'brand endorser' stems from his superb football performances for Arsenal and his continued success on the pitch after his transfer to the champions from Manchester United. Both clubs are solid global football brands for what reason Robin Van Persie's star qualities echo in the minds of passionate football fans worldwide.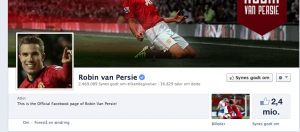 Robin Van Persie's overall score in REPUCOM's measurement is 71.34, which accounts for a position as the most viable* player in the Premier League in front of players like Arsenal's Jack Wilshere (69.38) and Tottenham's Gareth Bale (68.28). Though, Wilshere stood out in terms of his 'aspiration' score (77.09), which indicates that he was the top player, whom most fans believed had a life, which they aspired to. Joe Hart from Manchester City and Frank Lampard from Chelsea are placed as no. 4 and no. 5 in REPUCOM's ranking.
Van Persie scored 26 goals last season and became the league's top scorer in front of Liverpool's Luis Suarez and Tottenham's Gareth Bale. That title HAS THE ABILITY TO SELL BRANDS and Van Persie was also part of major commercial campaigns for huge corporate brands, e.g. Nike (Manchester United's kit sponsor), BT Sport, and Adidas (personal sponsor of Van Persie). Especially, Van Persie's 'trust' and 'trend-setter' scores were high – these scores were the best of Premier League's top 5 players in the ranking. He scored 65.21 on 'trust' and 72.4 on 'trend-setter'. Moreover, it is good news for Van Persie commercial appeal that he started this year's season with two goals against Swansea – a performance for which re received much praise by his new manager David Moyes, who thinks that Van Persie can get even better at Manchester United (to see that story, click here).
Gareth Bale profits from the fact that he received the Professional Football Association's 'player and young player of the year awards'. He had a great year for Tottenham and scored many goals. Though, what is most important for his overall global marketability is the fact that he has been associated with a move to Spanish giant Real Madrid. Such a move will 'spice up' his brand potential and will thus increase his ability to lift the appeal of any associated brand.
* According to REPUCOM's market-related analysis. I recall that readers must keep in mind that a thorough and valid measurement of star players' brand value requires a well-established multidimensional brand analysis.
Source:
Mirror's portrayal of Robin Van Persie as the best-selling shirt name in the Premier League.