"When I take my kid out and hit him ground balls at shortstop, he wants to be Derek Jeter. He doesn't want to be me. So any professional athlete who tells you he's not a role model is full of baloney."  (Father and Little League Coach – Pulley, 2001, p. 131 in Bush et al., 2004, p. 108). Although this citation refers to professional baseball, it is a tendency, which can be generalized to account for 'how sport stars persuade children'. Football stars are no different than baseball stars. They are convincing phenomena in the intense 'media culture', which leads sport stars to transcend the borders between sport and other vital layers of our overall societal culture. In sport or football marketing, sport entities and corporations are responsive and creative in their methods to take advantage of the commercial potential linked to children.
The research conducted by Bush et al. (2004) reveals the colossal market potential of teenagers for advertisers. That relates to sport in the way that sport stars are essential influencers to kids due to the fact that kids account for an important target group in relation to spreading positive word-of-mouth marketing about sports-related brands and for improving brand loyalty for these brands.
For that reason, we see more and more brand communities and brand activities in the context of sports, which target children. Tottenham Hotspurs, Chelsea FC and Manchester City are three examples of professional football clubs, which find themselves in this context. They direct some of their marketing activities towards kids to raise and nurse the interest of football and to enhance their amount of long-term brand-loyal followers. When working with such activities, it is critical to consider the mixed interests of children but also their parents, teachers, coaches and other stakeholder groups to optimize the impact of the marketing activities.
Recent practical examples of sport marketing activities aimed at children: 
An example of a Chelsea FC initiative:

The English club collaborated with its sponsor Samsung to introduce a large campaign, which was aimed at getting thousands of UK kids to play football. Under the name 'Free Kicks for Kids', the two parties give kids (boys and girls) between the ages of 6 and 13 the opportunity to take part in free coaching sessions arranged at selected Goals Soccer Centres. This gives Chelsea FC and Samsung a chance to promote themselves during weekend events while implementing a CSR-activity. For commercial purposes, Samsung's products are displayed in full view in a special area where parents can wait and watch their kids on the training ground.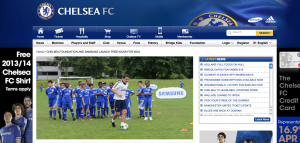 Photo: News about the 'Free Kicks for Kids' program at Chelsea FC's web site.
An example of a Manchester City initiative:

In 2012, Manchester City introduced an interactive kids membership scheme along with a promotional campaign. This initiative was launched to give kids better access to players, i.e. meeting the fan request of getting closer to the club and its players. This children's program attempts to electrify and entertain City's youngest fans via a membership-based web site. The site shows special content for different age groups, e.g. match information, player news, games, contests, nutritional information, educational challenges, videos etc. The content is personalized to make sure that the site experiences an 'organic growth'. For no more than £20, members are given a welcome collection consisting of 'City Kicks' gifts and a magazine. The specific 'interactive nature' of the site works in the way that the more the kids interact, the more City Stars they receive, which open player statistics and chances to access selected contests (e.g. a player interview, the chance to become a match-day mascot and hence follow the players to the pitch during game-day). A selected City player acts as an ambassador for the 'City Kicks' program and thus has his own blog to communicate with fans via the site. Members will also receive invitations for special events at various locations in Manchester or at Etihad Stadium.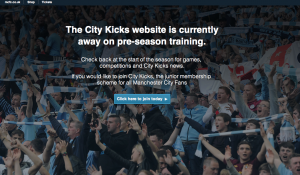 Photo: The 'City Kicks' web site.
An example of a Tottenham Hotspurs initiative:

The London-based club also launched a 'gaming platform' for kids recently. 'Tottenham Turfies' is the name of the platform, which is a new addition to the club's marketing strategy. The club has shifted its focus to target younger supporters more intensively. Earlier, Tottenham Hotspurs tried to reach the youngest fans via grassroots pursuits but the club has realized that 'online gaming' is another and yet very helpful method to reach young fans. The platform was introduced this month and is created around the idea of letting children design their own 'Turfie', which can be utilized to win prizes, play games and engage with friends' avatars (in alignment with the idea for a gaming platform like 'Second Life'). This is truly in harmony with the notion of 'experience economy' and it underlines that top clubs are increasing their application of experiential marketing to reach fundamental segments. As we saw with 'Second Life', Tottenham's platform also allow users to convert the game's online currency/money into real gifts like tickets to special events, stadium tours, and club merchandise. The main target group is kids between the ages of 7 and 10, who aren't brand-loyal to any team yet (Tottenham hopes that they convert the children into long-term Tottenham fans). Tottenham's thoughts are also aligned with sponsorship interests in the way that sponsor-developed content is to be integrated into the platform. For instance, kit supplier 'Under Armour' may benefit hugely from this interactive marketing tool. Furthermore, this acts as a good method to support the club's global branding plans.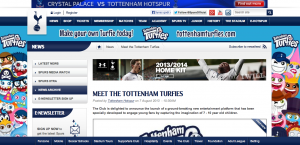 Photo: Tottenham Hotspurs, 'Turfies' web site.
According to the research by Bush et al. (2004), marketing related to sports and entertainment is an industry with huge potential and major brands are integrating sport marketing and sponsorship in their services or branding activities. That gives a fine scene for innovative solutions like the above-mentioned examples. Special promotions – 'kids free night', a closer interrelationship between kids and star players – are thus become more popular. Simply, the above-mentioned examples provide perfect ways to build emotional equity with the youngest fan groups and thus with the long-term fans of the club. This is a great way to secure future revenue streams.
Sources:
Bush, A. J., Martin, C. A., & Bush, V. D. (2004). Sports celebrity influence on the behavioral intentions of Generation Y. Journal of Advertising Research, 44(1), 108-118.
Tottenham Hotspurs, 'Turfies' web site.