The 2014/2015 season of the English Premier League will kick off on Saturday the 16th of August. With about one week until the start of a new English football season, I have decided to look at some 'football economic' factors of the world's most revenue-generating football league.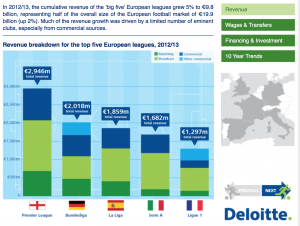 Photo: Revenue break-down of top five European football leagues (source: Deloitte).
During a twenty-year span since the beginning of the 1990s, international top football has been commercialized intensively. In that regard, the English Premier League has been the locomotive to drive these commercial growth rates thanks to lucrative broadcasting contracts and a derived ability to generate additional revenues. Manchester United was positioned as number 4  worldwide in Deloitte's Football Money League in 2013 and generated £363.2 mio. that year (Deloitte, 2014). England had six teams in top 20 last year but despite the huge chunks of money floating into the top teams in the Premier League, there is still a big gap to the club with the least amount of revenue-generation in 2013 (Wigan Athletic, £56 mio.). Going twenty years back in time (1993), revenues of the highest earning club were £25 mio. That amount is approximately £30 mio. less than Wigan Athletic's total revenues in 2013, which tells a story of a modern football league's compelling commercial revenue-generating appeal grounded on the domestic and global mass appeal of top football. However, the numbers also tell a story about a reality in which many expensive players were and still are brought to the English Premier League and hence take a large portion of the revenues. Many Premier League clubs have been caught in financial situations, in which improved revenue-generation did not perfectly match the increasing player salaries and debt levels, e.g. Manchester City under the ownership of Sheik Mansour or Hicks and Gillett's ownership of Liverpool FC. This does not fit well with the overall visions for UEFA Financial Fair Play (FFP) but some big clubs seem to be able to come up with some creative solutions to make up for big financial losses. Consider how financial operations would look like in some of those clubs from a UEFA FFP perspective without owner-related sponsorship solutions, third-party player ownership (e.g. West Ham United) or if clubs faced harsh sanctions when their financial life primarily was backed by debt (often in professional football, clubs are funded by external creditors, which leads to why economists think that football clubs are risky businesses and why a lot of clubs survive operational problems due to different forms of 'artificial respiration'). Overall, we have seen that the Premier League still have some issues to solve in terms of the relationship between player salaries and revenue-generation, see here.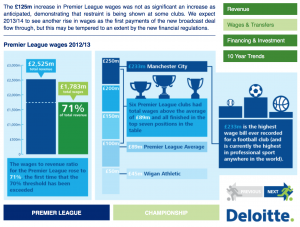 Photo: Premier League wages-revenue ratio (source: Deloitte).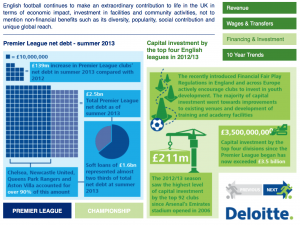 Photo: Premier League debt levels (source: Deloitte).
For that reason it is definitely a plus for the clubs that top football is a 'passion-fueled' economy and that the Premier League's revenue-generating ability has proved to be somewhat extraordinary, especially when you consider the broader monetary environment over the years. Most Premier League clubs have not proven to be profitable due to some of the above-mentioned debt and salary issues so in that light it has been important that the league has been capable of increasing its revenues at a high rate to cover some of the extravagant spending on transfers and player salaries. The latter is also a result of foreign ownership since new owners with the intent to win titles don't have the patience to build an organic system to feed the successful engine and thus end up buying fully developed and expensive foreign players (unlike Germany where there is a 'more rational' 50+1 rule in place, see here). Remarkable broadcasting revenues have driven this positive revenue development and in 2013 these revenues accounted for £1,184 mio. and have been sparked by the intensive competition between broadcasting firms that are eager to show premium football. Thus, broadcasting revenues accounted for 47% of total Premier League revenues in 2013 compared to approximately 10% twenty years ago and that is a SIGNIFICANT change. Concluding on this revenue-breakdown, broadcasting revenues have really boosted all Premier League clubs but for smaller clubs it would be extremely tough to live without these revenues since it would polarize competition to an even larger degree. When analyzing the revenues of smaller clubs like QPR, Wigan Athletic, Reading and Swansea City (2013), I found that broadcasting revenues accounted for a large share of their total revenues. For Wigan Athletic 78-79% of revenues came from broadcasting revenues, for Swansea City the equivalent percentage was 76-77%, for Reading it was 74-75%, and for QPR it was 70-71%. For the top 6 revenue-generating clubs in the league, the equivalent percentage only accounted for the following, cf. table below (Deloitte, 2014):
| | | | |
| --- | --- | --- | --- |
| Top 6 Revenue-generating Premier League clubs in 2013    | Total Revenue (£ mio.) | Broadcasting Revenue (£ mio.) | Broadcasting Revenue as a percentage of Total Revenue |
| 1. Manchester United | 363.2 | 101.6 | 28 % |
| 2. Manchester City | 271 | 88.4 | 33 % |
| 3. Chelsea | 260 | 105.4 | 41% |
| 4. Arsenal | 243.6 | 88.4 | 36% |
| 5. Liverpool FC | 206.2 | 63.9 | 31% |
| 6. Tottenham Hotspur | 147.4 | 62.3 | 42% |
The top 6 clubs in the league generate approximately £1.5 billion and that proves that the top 6 Premier League clubs have been more successful than the rest of the clubs in the league to enhance revenue growth. For me that is not a surprising factor. First, it serves a purpose to point to the fact that media-market and digital technology development along with the globalization tendencies in postmodern sports economy and sports marketing have intensified this development. Sports fans want to follow the best brands and the top 6 Premier League clubs have a fine sporting heritage or a good association with winning and buying star players from various geographic locations and that is well-aligned with building fan engagement*. Additionally, the top clubs (especially the top 5 clubs) have often been visible actors in Europe's finest club tournaments, especially UEFA Champions League. The latter has experienced an explosive commercial growth as well since the re-structured implementation of the tournament in 1992 and that gives a positive spin off in terms of revenue generation for participating clubs and derived global commercial appeal.
* Fan Engagement factors may relate to Socialization (enjoying a good football game with friends or family), Performance (good players and their skills), Excitement (the uncertainty associated with the outcome of a football game and the entertaining aspect of the game), Esteem (the importance that you favorite team wins), and Diversion (the escapism from boring everyday activities) (source: Funk et al., 2009).
Additional inspiration (ownership structures):

Sources:
Funk, D. C., Filo, K., Beaton, A. A., & Prtichard, M. (2009). Measuring the motives of sport event attendance: Bridging the academic-practitioner divide to understanding behavior.
Söderman, S., & Dolles, H. (Eds.). (2013). Handbook of Research on Sport and Business. Edward Elgar Publishing.