It is vital that corporations aiming to monetize on the commercial association with sports are aware of what goes on in the world around them. For instance, critical thinking and a constant willingness to incorporate new elements in alignment with modern technological, business-oriented and societal trends in the business model are essential parameters to drive the competitiveness of any sports-related organization.
New ideas in terms of data measurement and data use have arised and sought to influence the commercial patterns of sports organizations and their partners. Human tracking devices and other means of wearable technology have produced new forms of data, which sports-related organizations may apply for commercial purposes and to give stakeholders even more value-creating content. That mixes sporting performances with entertainment and thus encourages to stunned stakeholder behavior. Data measurement is also a concept that grows in the business of sports, e.g. by measuring social media followers or impressions, by measuring sporting and commercial capabilities of athletes or by measuring the income generated per fan. So the production of news apps that offer real-time content and that can impress and add value to stakeholders is essential. It is about acknowledging that you should take ownership of but also give ownership to your stakeholders when shaping the strategic direction in which the sports organization should move. For instance, football leagues can measure the strength of fans' team identification levels and where that strong identification is present, e.g. geographic location.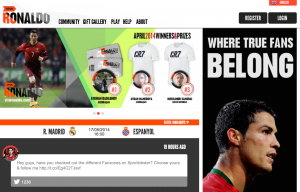 Photo: An example of the application of data driven marketing in sports, i.e. Christiano Ronaldo's app 'Viva Ronaldo'.
Inspiration: You may also want to check this blog in terms of social media competition in the English Premier League (source: WePlay).
We live in a business world where corporate sponsors want value for money. 'Con Amor' sponsorship still exists but from a corporate perspective it makes sense if sports organizations realized that modern tendencies point to deep commitment with commercial partners and that traditional media-value generated branding leverage is no longer enough. Thus dialogical commercial partnerships where there is a mutual understanding of what each partner can bring to the table are vital so that the end result become deeply engaging and differentiated partnerships instead of traditional platforms. Social media and new technologies build room for this strategic direction where a solid understanding of targeted fans is blended with creative brand execution to allow for extended viral life. For instance, sports brands with a proud heritage usually have kept an interesting and useful archive of old brand assets, which can generate new life via new technologies so it would make sense for sports brands to start utilizing this. Aalborg BK (AaB) plays in the Danish FA Cup Final today against FC Copenhagen and a few days ago the team featured online in the old uniforms from when the team won the tournament in 1970. That will most likely add to the brand preference level of young fans and enhance the identification level with the club. In that regard, AaB shows a rhythm of sports marketing as an integrated tool, which can be applied to transform fans into paying customers. The latter is key is a competitive sports world where there is an ongoing fight for stakeholders' disposable income.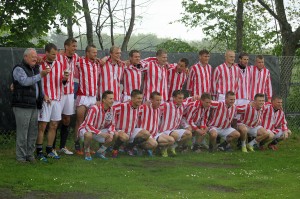 Photo: AaB's Super League team in old uniforms as a PR stunt in relation to the Danish FA Cup Final (source: AaB).