One of the stars from the WTA Tour, Maria Sharapova recently introduced her own premium candy line SUGARPOVA – a line that is supposed to mirror the fashionable, fun and sweet angles of Sharapova. The candy line facilitates an addition to Sharapova's business model. While extending 'the Sharapova brand', the new candy line also adds meaning to Sharapova's activities off the court and prepares Sharapova for a life after her active tennis career. In that sense, she seems to follow the path of other successful female athletes, e.g. Annika Sörenstam.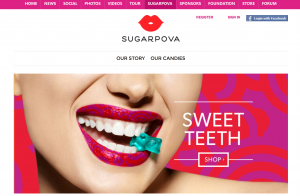 Photo: Promotional message for SUGARPOVA (source: Sharapova's official web site)
As a result of introducing her candy line, Sharapova considered changing her name to Sugarpova for this year's US Open. This consideration was thought to help to create more awareness about the SUGARPOVA brand along with special promotional events in selected markets and surrounding other tennis events. Though, her team decided to go against changing her name due to the challenges associated with a name change and its effect on her brand identity. I think that is a wise decision given the fact that Sharapova is still active on the court for what reason she would benefit more from focusing on what goes on there instead of sending the message that 'it's all about the money'. There are other and smarter ways to promote and sell her candy than by changing her name! You can always discuss her branding strategy but it seems as a smart move that she is trying to prepare herself for life after tennis.
More information about Sharapova's potential name change:
Take a look at this link, ESPN.