Lionel Messi still has more penetration from a sponsorship angle than Neymar in Spain although the potential of Neymar is great and most likely will continue to grow in accordance with his presence in FC Barcelona.
We have already seen that Neymar has developed a very powerful personal brand in Brazil and South America and he is thought to become one of the biggest (if not the biggest) personal brands in football. Right now, it may be a GOOD business deal to form a commercial partnership with Neymar before his global brand equity moves to the likes of Lionel Messi and Christiano Ronaldo.
In relation to REPUCOM's Celebrity DBI tracker, Messi presently scores 40 % higher than Neymar measured on 'awareness', 20 % higher on 'appeal', and 20 % higher on 'trust' if you look at the Spanish market. BUT that may be about to change?
Corporations are becoming more aware of the commercial potential of Neymar. Recently, Panasonic signed a four-year extension of its global partnership with Neymar (Sports Sponsorship Insider, July, 2013), which is thought to highlight the corporation's sponsorship of the 2016 Rio Olympics. As part of the deal, Neymar will take part in Panasonic's commercial B2B activities, which are covering 193 countries. Panasonic was the first Japanese corporation to sign with Neymar, when the corporation signed a two-year contract with Neymar in April 2011 to underscore its engagement in the 2012 London Olympics. The new extension emphasizes Panasonic's global activities, which feature Neymar as the corporation's global brand ambassador with ties to B2C and B2B promotional initiatives, CSR etc. A concrete example of the activation of the Neymar deal is the introduction of a new web site under the name 'Panasonic x Neymar Jr.', see picture and video below.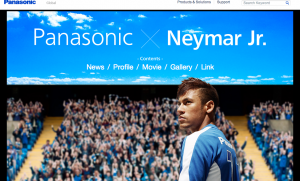 With its Neymar deal, Panasonic follow the foot steps of other corporate brands like Nike, Claro, Mentos, Terys-pe, Lupo, Guarana Antarctica, Volkswagen, Unilever, Heliar, and Santander, which have already joined the Neymar b(r)and wagon.
According to research conducted via 'Media Reputation Intangibles' (MRI) at Universidad de Navarra, Neymar will benefit hugely from the enormous media exposure brought to his personal brand by his move to FC Barcelona. The research stresses that Neymar will probably become number 1 in the world and thus surpass Messi and Ronaldo if he performs well in FC Barcelona. Neymar had a fine media value when he played for Santos in Brazil but the predictions from Universidad de Navarra are also related to the fact that he has moved to a European team with huge exposure. To support the prediction, Universidad de Navarra also links Neymar's media value to his market value, which has experienced rapid growth since 2009, see picture below. In top of that, you can add Neymar's sponsorship value and social media popularity and you have a new 'cash cow' at the global football scene.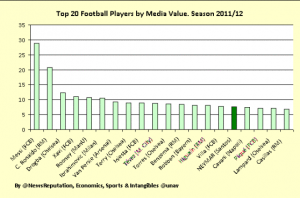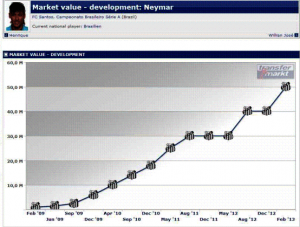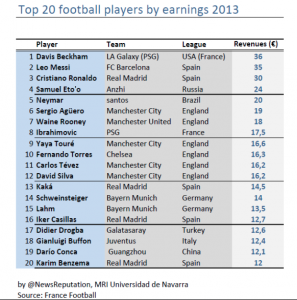 Additional sources:
Street & Smith's SportsBusiness Global
Universidad de Navarra, 'Media Reputation Intangibles'.