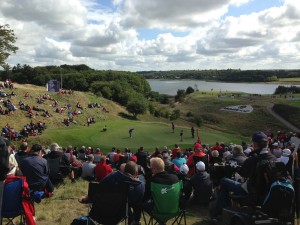 Photo: The 16th hole of the Made In Denmark tournament.
Since Thursday, Himmerland Golf & Spa Resort has hosted the European Tour tournament Made In Denmark with DKK 11 mio. in prize money. From a sporting perspective, it is fantastic to have this tournament in Denmark in 2014, 2015, and 2016. It is a prestigious event for Danish golf with a good range of Danish top players led by Thomas Bjørn, who has been among the international golf elite for many years. In addition, the young Danish star shot Thorbjørn Olesen plays in the tournament along with the local element Søren Kjeldsen. The tournament has received enormous exposure for quite some time and that has helped to put the local regions of Himmerland and Northern Jutland (and derived from this the regional capital city of Aalborg) on the map. Of course, this is associated with 'branding impact'. In that regard, it is key to note that hosting a European Tour tournament for three consecutive years provides a 'pull effect' on the large amount of golf lovers in Northern Europe. In terms of sports tourism, this event has the capability to attract golf enthusiasts to Himmerland Golf & Spa Resort in the years to come. The advantage of golf as a sport is that all golf lovers have an interest to play on European Tour golf courses. There is an appealing element in the sense that it is 'cool' for golf lovers to say that "I made a birdie where Thomas Bjørn or Thorbjørn Olesen made a bogey". Besides, golf is a sport in which players have a long lifetime compared to other sports, e.g. football. That means that a tournament like Made In Denmark may benefit from the fact that golf-related brands and products in collaboration with the tournament can be consumed over a long time span.
If you are to buy the marketing effect generated by Made In Denmark, it is very expensive. In this case, the region and the involved actors achieve a lot of PR with a substantial marketing value. This scenario is linked to major sports events for what reason this event must be measured against what it takes (marketing or campaign costs) to create similar attention around a specific destination. Furthermore, it pays off for a region or country to show that it can handle major sports events. Northern Jutland and Denmark have done so in recent years, e.g. UEFA European U-21 Championship in 2011, European Swimming Championship in 2013, and European Men's Handball Championship in 2014. For this event, the host role adds extra meaning for Northern Jutland and acts as a quality mark given the fact that some people in Denmark may associate major sports events with Copenhagen. Simultaneously, major sports events provide increased turnover for the region as the event attracts new visitors that have decided to visit the region only due to this specific event. This scenario was also in play when Aalborg was one of the host cities for the UEFA European U-21 Championship. Made In Denmark also appeals to a wide range of people.
In general, golf relates to many people and industries. It is a sport with a fantastic 'corporate appeal', which rights owners can take advantage of. The sport has become more 'mainstream' over time but it is still very appealing to affluent segments for what reason luxury brands like Mercedes-Benz or Georg Jensen are commercial partners for the tournament in conjunction with strong brands like Ecco, Carlsberg, Nike, PWC, and Nordea. Made In Denmark is very valuable on the Danish market but it also gives commercial partners an opportunity to activate their sponsorships in front of international business partners due to the fact that golf is a platform, which blends well with affluent, decision-making and well-educated segments. Top-class golf is also a good experience. In recent decades, the Danish Golf Federation has experienced a solid membership growth, and the federation is the fourth largest under the umbrella of the National Olympic Committee and Sports Confederation of Denmark (source: DIF). The sport is great for networking and thus a good business platform, which the event organizers can benefit from in the future whether or not focus is on hospitality sponsorship or sports tourism solutions. One of the commercial partners of the tournament, Nordea, believes to benefit highly from Made In Denmark. The company is among the leading financial companies in Northern Europe and already has good brand awareness for what reason their commercial partnership with the tournament is signed as a hospitality sponsorship. According to Marisa Rud, sponsorship manager for Nordea, the company welcomes approximately 3,200 customers during the event. Among other things, Nordea has a big tent by the 10th hole, which offers Nordea customers a good view, great food, elite golf and the opportunity to take part in a folk festival. Nordea also invites VIP customers to the company's set-up around the 18th hole, which will offer the customers a golf-related total experience that unites an interest for golf with a network linked to and insight into wealth management and financial services. Marisa Rud emphasizes that "the tournament in Northern Jutland is a good strategic match related to the company's existing presence in golf and in sport in general. We have the opportunity to invite many customers to a large and positive event over four days. For us, it is about building a good level of engagement with our customers more than exposure. Made In Denmark is a fantastic initiative, which has been taken in Northern Jutland, to gather the world's elite and some of the very best golfers. Moreover, the financial foundation for the tournament has been safeguarded. It is not a tournament that goes bankrupt and that is another reason why we have chosen to become a part of this project." Nordea underscores the omnipresent 'corporate appeal' of golf and that the tournament is a good match for the company's market focus and a good extension of the company's sponsorship collaboration with Nordea Masters (European Tour) in Sweden. In general, Nordea is very rational when choosing its sponsorship initiatives but the thoroughly prepared concept for the tournament in Himmerland works well with Nordea's positive experiences from the tournament in Sweden and these factors have been decisive in determining that Nordea has the courage to become a part of Made In Denmark and according to Marisa Rud it is a good investment.
Photos: Exemplifications of Nordea's presence in Made In Denmark (source: Nordea).
Himmerland Golf & Spa Resort must be able to boost its revenues in the upcoming years. Golf is characterized by elite and recreational levels and hence ranges from active players focusing on the competitive element to players focusing on the social bonding. The differences in segmentation (when comparing golf with other sports) have to do with the fact that a lot of retired people play golf. All in all, it gives Made In Denmark good potential to create a relative positive impact concerning financial operations at Himmerland Golf & Spa Resort and for the surrounding community. There are strong economic ties between the golf tournament and other industries like restaurants, clothing, literature, equipment, renovation, course design, real estate etc. Likewise, golf is mainstream today and not merely for the social elite. The sport has been through a lot of changes over the years and the middle class has become experienced in the sport.