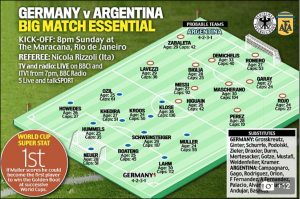 Germany is one of the super powers in the world of football and the country's latest success manifests the impression that Germany's overall association with quality, team-work, and confidence is a fine exemplification of how to turn an understanding of the modern football context into titles. During what was thought to be one of the hardest times for German football from an international perspective, Germany initiated a 're-engineering phase' in which the ultimate ROI came when Mario Götze scored the game-winning goal in the FIFA 2014 World Cup Final against Argentina. Football seems to be 'black and white' in its ongoing search for good results but Germany led the way in terms of uniting an absorbing focus on the performance-oriented process with a promising football outlook. So, Germany found a potent recipe that gave the team success in Brazil and wrote history in the sense that Germany became the first European team to win in South America. From my chair, Germany did this with adequate elegance and perfect strategic execution at a time where modern top football is characterized by a conspicuous influence from flamboyant investors without a real sense of 'relative organic' football development.
The German World Cup title is a huge contrast to the country's poor results in the UEFA European Championships in 2000 and 2004 and the quarter-final loss to Croatia in the FIFA 1998 World Cup in France. Since that time, Germany has been looking to find the 'right DNA' to be able to convert the country's consuming football culture into great international accomplishments. The German investigation involved an in-depth analysis of the path from grassroots to elite levels and Joachim Löw (following in the footsteps of Jürgen Klinsmann) now stands out as the man, who was able to drive the transformation to international success and to secure payoff on the huge monetary investment, which was integrated into the holistic development of German football. Now, we can look back at a period, in which Germany has played in two World Cup finals, a UEFA European Championship final, two World Cup semi-finals and a UEFA European Championship semifinal since the tormenting loss to Croatia in 1998. That is a positive winning streak in major tournaments when you compare with another country with a prominent football league (i.e. the Premier League) like England. The current team that won the World Cup in Brazil portrayed a starting line-up in the final, which featured a 4-2-3-1 system with nine players from the domestic Bundesliga, including six players from FC Bayern Munich, one player from Borussia Dortmund, one player from Borussia Mönchengladbach, and one player from Schalke 04. Then, I think that it serves a purpose to add that several of the German world cup players were part of the successful German U-21 team that won the U-21 UEFA European Championship in Sweden in 2009. However, these are just results for what reason I must point to the process of endless self-assessment that has 'branded' German football over this period of time. I brought up England in this analysis of German success for a reason! The German Bundesliga is among the top five European football leagues along with the English Premier League, the Spanish La Liga, the Italian Serie A, and the French Ligue 1. Nevertheless, the Bundesliga is a great example of remarkable economic progress. From an all-inclusive angle, the clubs in the Bundesliga do well measured on the overall number of spectators for the games in the league, the economic operations and results of all clubs in the league (despite the fact that the Premier League has an accumulated turnover higher than the Bundesliga). When these numbers are held against international club performances and national team performances in recent years, Germany definitely distances England. That may very well be the result of the German mentality that displays confidence and hunger for winning titles in major competitions. Look at how the Germans prepared for the culminating FIFA 2014 World Cup moment for many years but also take a look at the preparations during the tournament. The German players gave much praise to the fact that the German FA and thus Germany as the only team in the tournament built its own detail-oriented camp and training facility with support from sponsors like Mercedes. This preparation phase with rational investments goes hand in hand with the German self-understanding linked to structure and quality (yes, 'ordnung muss sein). Unlike England, qualification for the World Cup does not seem to be good enough – the Germans want to play at every stage of the tournament. For Germany, the next tournament counts and this also influenced Löw's rhetoric actions after the game. The German FA has shown a revitalizing unified approach where resourceful and effective collaboration with different actors like higher academic institutions, sponsors, the Bundesliga and its clubs are building stones, which pave the way to titles. Thus, there is an ever-pervading focus on performances and not only on the final result and the country has invested the resources to support this focus. From a sporting view point, people seemed to criticize Löw for the fact that he only brought one 'true' targetman, i.e. Miroslav Klose, but Götze's game-winning goal and the flexible 4-2-3-1 system proved that the critical comments were wrong. Yeah, football and professional sport is about winning and Löw and the German FA proved that football needs the right mindset in terms of getting the best out the players and the sporting infrastructure. In doing so, the German success reflects a true performance-oriented culture. In that equation, the German team also knew that it is not enough to have 'one' good action in the entire game. The Brazilian team showed that tendency whereas the German team seems to have an engine that goes on for the entire length of the game and where there is a sound balance between tactical awareness and modern-football-aligned-and-effective creativity. Germany was more than Özil whereas Brazil and Neymar could not cope with separation. Thus, the German model portrays a footballing culture in which all actors have an interest in helping to stage the individual player's performances in harmony with strong team performances. That blends well with the requirements for professional football in the year of 2014.
Germany found a new strategy, believed in it and showed a perfectly orchestrated strategic implementation of resources. Germany took advantage of a profound talent pool, which in comparison with the English squad featured a young team with players 'PLAYING' in strong international teams in the domestic league and meant for World Cup success. That brings me to the German Bundesliga's business model that includes the noticeable '50+1 rule'. This rule is a regulation that directs clubs to possess at least 51% ownership and hence a regulation that prevents the league and its clubs from harming foreign ownership. As seen in England and the Premier League, foreign investors lack patience and often dream about 'fast success'. However, cultures are not changed overnight so that path mirrors a quite expensive cocktail (look at clubs like Chelsea and Manchester City, Paris Saint-Germain) where clubs are looking to buy expensive and fully developed players from other leagues (in England most of the star players are bought in foreign leagues). Moreover, the German Bundesliga clubs are better performers than Premier League clubs in terms of the relationship between revenues and player wages. Take Borussia Dortmund as an example. The club created a paradigm shift when it won the German Bundesliga two years in a row (2010-2011 and 2011-2012 seasons) with a lower wage bill than that of some mediocre Premier League teams (just look at a club Queens Park Rangers).  Moreover, Borussia Dortmund secured the title and good international success in the UEFA Champions League based on many home-grown German players. The latter is a vital argument in this blog post. Dortmund's return to the top of German football under guidance of head coach Jürgen Klopp and FC Bayern Munich's European prominence in recent years with many German players and with a solid economic foundation are two examples of what it means for Germany's national team success that you have a league in which the top teams build young, vibrant, modern-playing teams with enormous passion and hunger and yet based on relative young unknown players (of course that changes when the clubs are featured at the highest international stages). There are a lot of young German players in the Bundesliga and the players actually PLAY. All this is part of the united fashion for re-structuring the German football model and in Germany there seems to be a sense of unity regarding talent development and the investment in the education of coaches and players at the academy and higher levels. This process of filling the gap between talent development and Bundesliga appearances has created a winning situation. The fact that you need to invest in this development to maintain a license to play has raised the amount of young German players in the Bundesliga and it is rational from the understanding that IF YOU INVEST IN SOMETHING YOU WILL ALSO USE IT! And with the profitability of German clubs, there is still money to buy stars and attract commercial and fan interests. One key difference between England and Germany is that German clubs also buy star players but don't invest so heavily in mediocre foreign players that take up the opportunities from domestic talents.
When the Germans initiated an investigative process of finding the right roadmap for success in modern football, they integrated cultural aspects like identity, playing style and talent development and did this in a way that accommodated a good development streak. In Germany, football fan culture is part of the DNA of football business models and society. In comparison with England, there are cheap tickets and that forms a good mode of interactions between the FA, clubs, sponsors, media and fans, which have resulted in strong revenue streams from sponsors, media, high fan attendance levels, modernized stadiums (good after-use from the FIFA 2006 World Cup), hospitality and players that have not lost touch with the Earth. The model also seems to accommodate some degree of competitive balance, which allows for a good degree of unpredictability (although FC Bayern Munich's latest championships speak against this pattern). Over the past seven years, clubs like Borussia Dortmund, FC Bayern Munich, Wolfsburg, and Stuttgart have won the Bundesliga. This leads to a situation where German players may think it is best to stay at home to play because the league is competitive, the salaries are relative good, there is great fan, media and sponsorship interest and most importantly there are good chances for PLAYING TIME. Germany has also showed interest in letting their players participate in international youth tournaments like the U-21 UEFA European Championship knowing that it is a good stage for players to show off with a positive spill-over effect on the 'A National Team'. With this year's title, the Germans have created a positive reinforcing circle that will give young players something to strive for at the national team level. Just take a look at the depth of the German team. Players like Mario Götze, Julian Draxler, André Schürrle, and Christoph Kramer are not regular starters for Germany. Readers should remember that this pool of talents comes after influences of process-orientation. The German model is dynamic and is founded upon asking questions and influencing all actors to consider the way to success whether that involves playing-style, system of play, training facilities (e.g. turf pitches), performance preparations, or talent development structures. Germany has invested in an educational approach to football with a huge amount of well-educated coaches. It is no longer enough to have played 250 games at the highest level. To coach a modern football team, coaches must also know about leadership, management, communication, psychology, motivation and so on and in Germany nothing is left by chance.