Tonight, Christiano Ronaldo from Real Madrid won FIFA's Ballon d'Or award for the second time in his career. Ronaldo's passion and emotions shined through as he thanked people around him for their support and help in the process of winning this award. Ronaldo quickly responded to fans via Facebook as he stated "Very proud to win the Ballon d'Or for the second time, it means so much to me! I thank my teammates from Real Madrid and Portuguese National Team. It wouldn't be possible without them."
Photo: Christiano Ronaldo's official Facebook site.
This means more brand equity for Ronaldo's brand building process. This fact has a financial spill-over effect on his partners. Real Madrid are probably very happy that Ronaldo renewed his contract. He has had a remarkable year at the club with a fantastic scoring ability. He won the award when he was at Manchester United and now he has realized to break Lionel Messi's (almost) monopoly in that sense. Real Madrid may most likely benefit from that happening in a Real Madrid jersey. Although, Ronaldo has not helped Real Madrid to any significant titles this year, the Ballon d'Or award is well-deserved as it marks his individual ability to perform at an extraordinary level over en entire season.
Back in 2013, REPUCOM's Celebrity DBI highlighted that Ronaldo was the most famous and marketable player in the world. 84 % of people on a global scale are aware of Ronaldo (Messi scores 74 % on this factor).Taking that into consideration, this year's Ballon d'Or award does certainly add positively to his marketability. Messi may have been very successful on the pitch, but Ronaldo may see a competitive edge over Messi in relation to sponsors in 2014 whereas Messi's overall popularity among consumers still seems to be higher. The distance between Messi and Ronaldo in terms of brand equity is 'close'. Both of them have a good ability to push consumers in terms of purchasing decisions but this award and continuous performances without injuries and a few titles for Real Madrid as well as a good World Cup in Brazil may be what can make Ronaldo surpass Messi. The World Cup with its prestige and exposure is a crucial tipping point for these super stars and their brand development. The level of exposure and thus the awareness of a player on a global scale is an optimal performance indicator for sports brands at this level and given the fact that so many people know them, there are many strategic opportunities to work with other marketability criteria.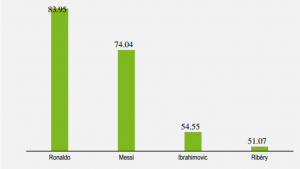 Photos: From REPUCOM's tracking of football celebrities.
In terms of football star identification, we know that fans tend to follow their favorite players. That characterizes Ronaldo, Messi and other star players. In that regard, I assume that Ronaldo has a big advantage given the fact that he has represented two major clubs like Manchester United and Real Madrid as both of these clubs have massive amounts of followers and that transfers into identification with Ronaldo. I also like the 'edge' that Ronaldo has given that he is admired by so many football lovers but not necessarily loved by them. That is a great supplement to his brand as it creates some interesting dynamism and debates. Messi is a great footballer and thus a powerful brand but he seems to be more mainstream than Ronaldo for what reason he does not create the same debates as Ronaldo outside the pitch. Ronaldo's status as a sex symbol also corresponds well with female fans, which speaks in his favor when being compared to Messi.