The world of sports sponsorship has definitely changed as a result of advances in technology. The current sports sponsorship market is characterized by enhanced media fragmentation as brands aim to build on what they do via traditional channels by moving into mobile marketing and social media solutions. This way, brands intensify the likelihood to highlight fan engagement by giving fans more ownership in terms of determining what happens.
Video: Sacramento Kings of the NBA and the teams fans break the Guinness World Record for loudest crowd roar (Forbes, 2013).
As a result of an economic environment that has suffered from financial hardship in many countries, sponsors and rights holders within the context of sports have realized that it is time to step up and do whatever it takes to emphasize the value of their content and to seal some valuable long-term deals that can take the involved brands to the next level. New sponsorship trends have also demonstrated that new innovative and flexible solutions with a long-term focus and integrated social and business value may boost marketability (Cortsen, 2013).
The status of sports sponsorship will not slow down if things are done in the right manner. There are so many conversations taking place around the world of sports and the emotional equity tied to sports is also extremely valuable. These are  two examples of potential economic drivers when it comes to the sports sponsorship market. Sports-related entities must be strategic about these factors. Thus, applying new mobile, connective TV and social media technologies on top of traditional marketing communication channels adds to the bottom-line when striving to intensify and exploit these conversations for commercial purposes. Coca-Cola is a long-term sponsor of sports events, and the corporate giant is now focused on integrating the conversations surrounding its sports sponsorship activities in its future sponsorship messages. For instance, Coca-Cola's involvement as a sponsor of the 2014 Sochi Winter Olympics in Russia has met resistance (for not protesting Russia's anti-gay law) from gay rights activists for what reason Coca-Cola has sought to integrate the brand's equality and diversity values in localized marketing activities. That is one example of 'taking care of content' so that it meets the objectives for social and business value.
Other corporate sponsors have taken advantage of new technologies and cultural capital and emotional equity in relation to sports sponsorship. Oreo did well when the brand succeeded in turning the Super Bowl blackout into an opportunity to promote its cookies when the brand launched a 'tweet' with an ad stating that "you can still dunk in the dark". It is no longer enough for sports marketers to run commercials to get the attention of sports fans. To optimize sports sponsorship and sports marketing activities, brands must recognize the importance of 'speed to market' in today's fragmented media environment. Oreo did that with its tweet during Super Bowl blackout. So what happened? Basically, Oreo tweeted its message when a power outage at the Superdome in New Orleans made some of the lights go out for 34 minutes. First, the brand's social media team tweeted an ad saying "Power Out? No Problem" accompanied with an image of an Oreo cookie and the words "you can still dunk in the dark". Oreo's communication saw massive retweets and likes on Facebook and acts as a reminder of what it means for sports marketers to be on their toes.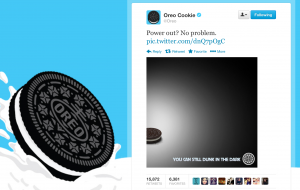 Photo: The official Twitter account of Oreo.
Adidas is also a huge corporate sponsor, which has invested highly in sports sponsorship through new technologies and 'real-time' marketing solutions. In today's sports marketing era, it is all about having your marketing teams ready to deliver instantly in connection with important moments in sports. In a post on Twitter, Adidas generated significant 'brand buzz' around the tagline "twelve months. one moment. all different." on the adidasfootball account as a celebration of Bayern Munich's UEFA Champions League victory against Borrusia Dortmund. To illustrate the reach of Twitter in distributing sports marketing messages, consider Marshall McLuhan's conceptualizations of 'the global village' and 'the medium is the message' and you will notice the important power of Twitter to publicly connect sports fans across international borders instantly and to engage these fans in 'meaningful conversations'. A sports brand like Adidas is very professional and strategic about the fact that there are tons of moments to share in the sports world. Though, the narrative and commercial strength of linking to Bayern Munich's superb performances in 2013 was a clever strategic pick for Adidas in the sense that Adidas owns shares in and is similarly a sponsor of the German top club. Moreover, Bayern Munich has a solid global fan base, which is perfectly aligned with Adidas' market orientation within the football market. It is a tough pick to plan for such a moment but the strength of Adidas is that the brand plans for something to happen on an everyday basis. In other words, Adidas is always ready to act and that gives them 'better planning', i.e. that behavior is just a part of the corporate culture now. Thus, sport marketers must be alert and on their toes in terms of scanning the sports environment for what happens. That way, it is easier for sports marketers to find and utilize moments, which matter. These lessons are also very essential for corporations dealing with sports sponsorships. Twitter enhances and attaches sponsorship associations. For instance, Twitter adds more 'activation power' to campaigns and it enriches TV campaigns by increasing engagement, message associations and purchase intentions. In that sense, Adidas has understood to build a bridge between target markets and target moments and that is key for any sports marketer.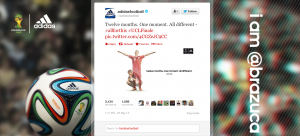 Photo: The official Twitter account of adidasfootball.
Budweiser has also invested in the emotional equity of sports and in particular football and has done so for many years. Budweiser is still a sponsor for FIFA's World Cup and other key football assets such as the FA Cup in England and Manchester United (Sport Marketing Frontiers, 2013). The latter, i.e. the UK-based 'budweiserUK' account on YouTube, is one example of the fact that Anheuser-Busch's Budweiser brand has implemented a mobile-oriented strategy targeting 'Generation Y' via engaged and localized commercial content with a touch of substance with meaning for the football (soccer) demanding UK-market (Business Insider, 2012). See below for some video examples, which demonstrates this tendency.

Photo: Examples of Budweiser's sports sponsorship activities (Sport Marketing Frontiers, 2013).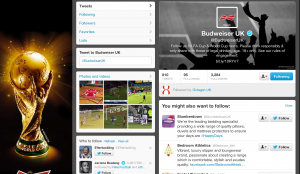 Photo: The official Twitter account of budweiserUK.
Sources:
BudweiserUK Twitter account (2013). See more here.
Business Insider (2012). See more here.
Cortsen, K. (2013). Annika Sörenstam–a hybrid personal sports brand. Sport, Business and Management: An International Journal, 3(1), 37-62.
Forbes (2013). See more here.
Sport Marketing Frontiers (2013).
WIRED. (2013). See more here.