A study of the 'Live TV Audiences for the 2013 FIFA Confederations Cup' revealed that the tournament has become more popular if the KPI is 'TV ratings'. Confederations Cup enjoyed a collective average live audience of 13.16 million viewers across Europe's big markets for each match (France, Germany, Italy, Spain and the UK). That provided the tournament in Brazil with a 42% enhancement compared to the tournament in South Africa in 2009.
Part of this may be related to satisfactory primetime and late evening timeslots. Additionally, it may have a lot to say that the tournament contained internationally recognized quality teams such as Italy and Spain, which had to face the appealing Brazilian side led by the promising young superstar Neymar.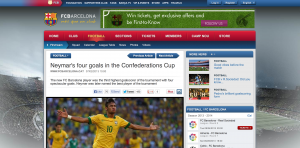 Photo: FC Barcelona web site.
His entrance in the tournament accompanied by great individual actions and goals most likely sparked this development due to the fact that it gave the tournament more aesthetic and international appeal among football fans in essential markets. His linkage with FC Barcelona (see link) is another aspect of the global interest surrounding him and the Brazilian team.
Table: Average Live TV Audiences for the 2013 FIFA Confederations Cup
2009

2013

Growth

France

134,000 (Eurosport)

802,000

(TMC)

499%

Germany

635,000 (Sport1)

994,000 (ARD/ZDF/Sport1)

56%

Italy

3.80 mio. (Rai1/Rai2/Rai3)

5.12 mio. (Rai1/Rai3)

35%

Spain

3.97 mio. (Telecinco)

4.53 mio. (Telecinco)

14%

UK

750,000 (BBC1/BBC3)

1.72 mio. (BBC1/BBC3)

129%

Japan

372,000

(Fuji TV)

885,000

(Fuji TV)

138%
Source: SportBusiness Intelligence, Eurodata TV Worldwide, Mediamat – Mediametrie, Auditel, Nielsen TV Audience Measurement, AGF, GfK fernsehforschung, Video research Ltd., Kantar Media Spain, Attentional, BARB.
As you can see in the table above, France was the market with the largest growth in audience. The tournament was broadcasted on TF1's free-to-air TMC channel. The public service provider BBC broadcasted some of the matches on its flagship channel BBC1 for what reason the UK also had a fine growth rate.