Dette indlæg er skrevet af Malene Hejlskov Mortensen, Professionsbachelor i Sport Management, University College Nordjylland & MA i Sport Management, London Metropolitan University – (Kenneth Cortsen, red.).
I forbindelse med 2014 FIFA World CUP BRAZIL har DBU og TV2 arrangeret 'DBU VM Tour', hvilket i den forgangne uge bl.a. har fundet sted i 'Jomfru Ane Parken' på Aalborg Havnefront. Touren går til ni større danske byer, hvor der blandt andet dystes om DM i street soccer og VM i straffe. Derudover er der mange andre fodboldaktiviteter og konkurrencer for de besøgende, og om aftenen bliver der vist VM-kampe på storskærm direkte fra Brasilien. Eventen er to dage i hver by, og tages rundt som en karavane, der bringer fodbolden og dens mange aspekter ud blandt befolkningen.
Eventoplevelser bliver i stigende grad en udfordrende og vigtig del af enhver stor sportsudbyders strategi – at møde interessenternes behov og ønsker er essentielt. Der bliver i Danmark sat større fokus på fanzones i forhold til de kommercielle aspekter, som det også i høj grad ses i forbindelse med Premier League kampe og andre store sports events i udlandet. Events som 'DBU VM Tour' er et af DBU's mange nye tiltag, og det viser, at de er på rette vej i deres nye 'brand building' proces. Det er et godt initiativ i forsøget på at udnytte det kæmpe potentiale samt de mange kommercielle og generelle udviklingsmuligheder, der er forbundet med fodbold.
'DBU VM Tour' er en fantastisk aktiveringsmulighed for sponsorer og partnere, og samtidig kan det maksimere 'branding impacten' og i sidste ende 'return on investment. Det er derudover også med til at maksimere potentialet og engagementet ude i byerne på en unik måde, og det skaber direkte kommunikation med målgruppen – det bringer fans, brands og klubberne tættere sammen. Fællesskab og aktivering er vigtige faktorer, folk vil have anerkendelse fra brands, hvilket gør, at de deltager i disse fællesskaber og events, som så øger niveauet af interaktion.
Partner-/sponsoraktivering er nøglen til succes, det handler ikke blot om sponsorater, men aktivering, engagement og interaktion med målgruppen. Ligesom Adidas er sponsor for 2014 FIFA World Cup Brazil, og har branding over det hele, er det med til at printe de tre striber i forbrugernes hukommelse og generelt med til at gøre Brazil 2014 til en succes. 'DBU VM Tour' er sponsoreret af Sony og KIA som hovedpartnere, UNIBET, UNO, Adidas og Coca Cola som eventpartnere, og TV2 og Radio100 som mediepartnere. Den byder på følgende aktiverings set-up:
Coca Cola Panna Cage
SBS bordfodboldborde
UNO Sutuvæg
DBU's præcisionsmål
UNO fitness-stationer
KIA Driblebane
UNIBET og SONY Speed Cage
Udstilling om dansk fodbolds historie til at markere DBU's 125 års jubilæum
Få taget et billede med vindertrofæet fra EM i 1992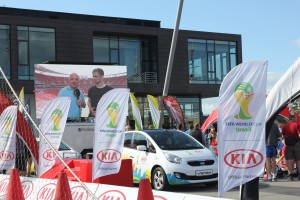 I takt med at fans forventer mere og mere, og med den store konkurrence på markedet om at give dem en helhedsoplevelse de vil huske og dele med andre, er det vigtigt at imødekomme behovene for dette. Der tales blandt andet om konkurrencen fra second screen oplevelsen og den helhedsoplevelse, som du får hjemme i stuen kontra den, som du får ude.
Events som 'DBU VM Tour' er ikke set mange steder før i fodbold-Danmark med den høje grad af branding og 'experiential activation' målrettet til fællesskabet – nøglen er netop at finde en kreativ måde at promovere sig på. Det giver folk noget at snakke om, og dermed skaber det 'content' til brug i markedsføring og branding. Det handler ikke om 'story telling' men derimod 'story building' som skaber 'content', der føres fra by til by. Derudover er det samtidig med til at skabe interaktion på de sociale medier og giver mulighed for, at DBU-touren blive en del af VM-snakken – VM-snakken som slår alle rekorder på de sociale medier. På Facebook har 220 millioner brugere allerede opslået mere end 1 milliard VM-relaterede posts, kommentarer og likes (The Wrap, 2014). Aldrig er der blevet målt mere end 1 milliard interaktioner i forbindelse med en event – selvfølgelig spiller det her en rolle, at VM strækker sig over en længere periode.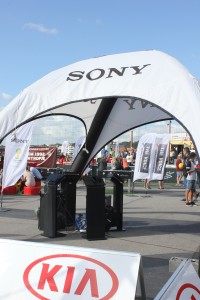 For de involverede partnere er det kommercielle aspekt, d.v.s. at blive associeret med VM i forbindelse med 'DBU VM Tour', en ekstrem værdifuld eksponering og ikke mindst en merværdi til de enkelte brands og touren i sig selv. En event som denne er en fantastisk eksponeringsplatform, som skaber interesse og effekt for interessenterne – man opfordres også af DBU på eventens Facebook-side til interaktion, deling og konstruktiv dialog. VM og 'DBU VM Tour' afsluttes i denne uge, d.v.s. i finaleugen 8.-13. juli i Fælledparken i København. Det er et godt eksempel på, at gennem øget kommunikation og interaktion er fanoplevelsen, branding, sponsorater og aktivering i højere grad blevet en helhed, en helhedsoplevelse der skaber content og fællesskab blandt målgruppen.
Links:
DBU.